Team WSA
Get to Know WSA's Travel Jedis
Aside from being ridiculously knowledgable and fun, our professional local guides share a passion for showing off their hometown and providing insider perspective to young travelers. Meet the power squad behind WSA.
Arthur Bijholt: Amsterdam Local Guide
Hi there! I'm Arthur and I'll be your guide through the amazing city of Amsterdam! Known all over the world for its friendly and lively atmosphere, visiting Amsterdam is an experience you will never forget and I love the itinerary that our Team has put together for you.
As a former history student, I'll take you to all the best sights of one the best preserved historical cities in the world, whilst taking you trough all the ins and outs of Dutch culture. My 9 to 5 is running one of the best comedy clubs in the entertainment district of Leidseplein, where I'll show you the "other" Amsterdam til deep in the night. As a proud native Dutchie, you'll find me riding my bike all through town, if I'm not driving my boat through the canals.
It would be my pleasure to show you around the freest city in the world, afterwards you'll be saying "I Amsterdam".
Dive into Amsterdam with Arthur.
Hometown: Amsterdam
Interests: Surfing, snowboarding, comedy, music
Day Job: Runs local comedy club
Dawid Kadziolka: Krakow Local Guide
Hey! My name is Dawid, and I am excited to show you around one of the most beautiful European cities, Krakow!
I grew up in a small, beautiful mountain town called Limanowa, located just next to Krakow. I love mountains, hiking and nature. However, since I was a child, Krakow has always been a special place for me. I loved to walk and discover new things in town with my parents. For me, this is the place where I have the greatest memories! I decided to move into Krakow for high school because the historical significance of the city inspired me. Last year, I graduated with a Tourism and Leisure degree from the Krakowian University of Physical Education. While I was studying, I made time to visit many European cities, as well as participated in an exchange program to Great Britian. Through these experiences, I realized how lucky I was to be from Krakow and live in such a special city. I am proud of this heritage and excited to show you around my favorite places!
Krakow is an incredible city with incredible history, where even the night life is unique and something you will never forget. Come to see Krakow, and fall in love with this place with me!
Hometown: Limanowa
Alma Mater: University of Krakow
Dream Travel Destination: Australia, New Zealand, Sicily
Languages: Polish, English, Russian & Italian
Hobbies: Hiking, Cycling, Traveling, Reading, Music & Trumpet
Play Video
Experience Budapest with Bogi!
Check out the Bogi came for WSA's local guide insider take on her favorite spots of her home town. Check out WSA's kick-ass Budapest trip here: http://www.wsaeurope.com/trips/budapest/
Bogi: Budapest Local Guide
I knew that I wanted to be a tour guide ever since 8th grade because I was inspired by my funny history teacher who was a guide herself. Actually, one of my favourite quotes is: "Travel often, getting lost will help you find yourself", and my job is to make sure you'll find whatever you're looking for in B-town! When abroad, I was lucky to have friends show me all the real cool, non-touristy stuff. I have found that so much more exciting, so have been doing the same in Budapest since 2007. I have accompanied groups on alternative walking tours, bike and bus tours as well as on the city's amphibious bus tours!
Check out Budapest Weekend with Bogi
Hometown: Budapest
Languages: Hungarian, English, German, Italian, Spanish
Hobbies: Singing, music concerts, badminton, swimming, traveling, journaling
Favorite Music: Boyz II Men & Mariah Carey
Fun fact:I worked as a receptionist in Italy, an entertainer in Spain, a reporter in Egypt and hope there's still more to come!
Play Video
Rhianne's Rome & Italy with WSA!
We're lucky to have Rhianne on WSA's roster of local guides. Rhianne heads up our Italian Extravaganza through Venice, Cinque Terre, Pisa, Florence and Rome. Check us out here! http://www.wsaeurope.com/trips/italy-1/
Rhianne Taylor: Rome & Italy Local Guide
Ciao ragazzi!!
My name is Rhianne and I will be your guide through Italy! Originally from England, I moved to Rome in 2011 because... well... it is the sexiest city in the world! With me you will have a very unique experience... Italy from a British perspective... and with a British accent!! I have experienced these cities as a tourist and as a student, so I understand exactly how you feel, and I aim to make this the best trip ever and help you make the most out of every second!
Some years ago I studied in Venice for 6 months, I worked in Florence for a summer, and now I live in Rome! So I am the perfect person to take you on an awesome adventure through Italy. I have a degree and masters in History of Art, and I am completely obsessed with Italian history, so not only will you have lots of fun, but you will also learn some amazing things!
When I'm not working for WSA, I'm huge groups of American high school students around Europe, or leading families on guided tours of Rome... and I love it!!! There is nothing more exciting than showing people how incredible my new adopted country is. So come and visit us in Italy, and I will make you fall in love with this country just like did!
Hometown: Birmingham, England
University: History of Art - University of Warwick, UK
Hobbies: Photography, Drawing, Singing, Traveling, Being a history nerd!
Travel Bucket List: The USA!!!!!!!
Alex Kaiser: Paris Tour Guide
Born and raised in Paris, I grew up on the left bank and spent much of my teenage years in the Latin Quarter. Later I studied law, Nordic languages and translation, both in Paris and in Scandinavia.

In 2013, I found my calling by starting to work as a tour guide to reconcile my passion for talking endlessly about Paris and my need to constantly uncover the hidden secrets of the City of Lights. Ask me about the latest techno event or where to find the best falafel in Paris; you won't regret it.

When I'm not working, or dancing in the capital's hottest clubs, you will find me in the gardens of the Swedish Institute enjoying a coffee and a cinnamon bun or practicing my yodeling ;-)
Come join us, I guarantee we will have a metric ton of fun!
Lived In: Paris, Bonn, Uppsala, Turku
University: Université Paris-Sorbonne
Hobbies: Cooking, Singing, Reading, eating French pastries
Travel Bucket List: Canada, Norway, Iceland, Denmark, Japan, Cambodia
Lucie Smitkova: Prague Tour Guide
"Ahoj everyone!
If you are looking for the best destination for your weekend adventure, look no further. Prague is THE city for you. Not only that it's leading the list of the most beautiful cities in the world, but it, most importantly, offers everything you need for a perfect trip!
Astonishingly beautiful, full of ancient and recent history, full of architectural wonders, Prague really is the place where dreams come true. Plus, it is the only place on Earth where beer is cheaper than water!
And who do you want to experience the city with? With me, Lucie, born and raised Praguer, who knows all the interesting nooks and crannies, all the cool and uncool places to hang out and of course, all the historical fun facts! Which girl did Mozart date and why do we throw people out of the windows? Find out!
I had to travel the world to finally understand that my home is only here, right in the heart of Europe. And I will be happy to share it with you!"
John Allis: Barcelona Tour Guide
After trying everything from studying abroad in Bolivia to studying linguistics in New Zealand (my home country), I decided to hop across the pond to Spain. After just 2 days in Barcelona I knew it was the place for me. For the past 2 years I've been falling in love with the winding alleyways, ancient buildings, beautiful beaches and everything else this city has to offer.
These days, when I'm not showing people around town, I'm performing Stand-Up comedy, travelling and learning to box.
Come and check out all Barcelona has to offer- I can't wait to show you my adopted home city!
Check out John's Barcelona weekend
WSA Core Team
Karissa Meyers: Chief Operating Officer
After graduating college I had several jobs in corporate America and found myself counting the seconds until my next European adventure. After taking 4 trips to Europe in 18 months I decided it was time to make some life changes. While in Amsterdam, I stumbled upon an amazing tour being given by an absolutely hilarious guide (our WSA guide Arthur) and he told me about the company and what they did.
When I studied aboad I was completely broke and had no idea how to travel affordably so the concept of a company that could help even the most novice traveler experience a city like a local sounded amazing.
Since starting I haven't looked back! My favorite part of the job is joining WSA tours whenever I can because each of our guides do such a great job of making newcomers fall in love with their city.
University: University of Wisconsin- Madison
Hobbies: Traveling, Photography and Cooking
Favorite Countries: Italy, Bulgaria, France, and Ireland
Travel Bucket List: Istanbul
Andy Steves: Chief Backpacker
Hailing from Seattle, but traveling every year of his life to Europe, Andy felt right at home when he got the chance to study abroad in Rome in 2008. When his friends started coming with him on every trip he organized, he realized there was an opportunity for fun, culturally-focused, budget travel for students abroad in Europe. He wrapped up his undergrad at Notre Dame and launched WSA immediately after in 2010. Since then he's built up a kick-ass team of travel jedis, of whom he's immensely proud to have pushing and developing the WSA mission further: to open students' eyes to the beautiful experiences and cities that Europe has to offer from a local's perspective.
Hometown: Seattle, WA
Alma Mater: University of Notre Dame
Study Abroad: Rome, Spring 2008
Favorite Gelato: Caffe & Pistacchio
Hobbies: Cycling, Sailing & Extreme Sledding
Favorite Travel Destination: Thailand, Rio de Janeiro, Stockholm
Happy Backpackers

This past weekend, I traveled to Budapest with WSA with a couple of friends from my university abroad, and I couldn't have asked for a better trip! After arriving at the hostel, we met Bogi, our tour guide for the weekend, who was instantly friendly and welcoming. Throughout the weekend, Bogi was an amazing guide! She showed us some great places for shopping and food, as well as the top sights around the city. You could tell she loved her job and never passed up an opportunity to share about her hometown and some of its history. She was so friendly and was sincerely interested in us as individuals and did everything she could do accommodate our priorities for the weekend (whether it was food, shopping, nightlife, sightseeing, etc.) I would highly recommend WSA's guided tours for any student studying abroad who wants to explore more than their university's city!

Katrina Alford, Concordia University - Irvine

~ AIFS Richmond, Spring 2015
Spots are limited!
We keep our groups small, so save your spot now! Check out our Tripadvisor, App Store & Facebook travel love below.
Multi-City Adventures:
Stay up to date with upcoming tours, deals and discounts through our Facebook page!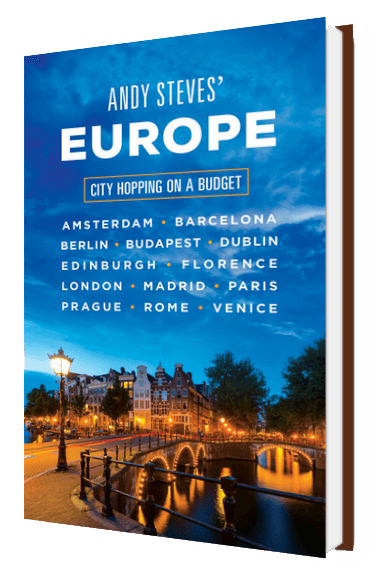 Pick a city and go! All new budget guidebook from Andy Steves, Founder and Chief Backpacker of WSA.