Planes, Trains & Getting Around on a Budget
Tips on getting from A to B
Amazing destinations await, but how will you get there?
AIRLINES
Most times flying will be your most practical choice time-wise and if you do your research you can get excellent ticket prices! Here are our top tips to help you score the lowest priced ticket
1) Make your schedule based on flight prices.
Prices can dramatically change based on the date so why not let flight prices determine where you will go each weekend. Our favorite tools are:
Google Flights is the perfect tool when you know a destination you want to travel to but don't know the date. You can put in your origin and destination airport then pull up the calendar and see all the prices and just pick the cheapest weekend!
Skyscanner is best used when you have your dates picked out but don't know where to go. Simply type everywhere in the 'To' field and you will be able to see the cheapest destinations for you. This is a great chance to discover cities you might not have considered visiting
2) Make sure to check round trip and one-way tickets
Contrary to booking flights in the US it is often less expensive to book 2 one-way tickets instead of round trip so be sure to do the math before you book anything
3) Check out transport costs (and time) into the city
Budget airlines sometimes fly into airports that are WAY outside the city so be sure to google how to get from the airport into the city before booking a ticket. Sometimes this can add up to 2 hours and €20 each way so that budget airline ticket might not be quite as cheap as you think. This is especially true for Paris and London.
4) Consider flying into airports in nearby cities
in Google Flights when the destination drops down you have the chance to click on a link that will search nearby airports (make sure your dates are set before you choose which airports to see the most accurate costs). In Italy in particular it can often be significantly cheaper to fly into Pisa vs. Florence or Milan vs. Venice and take a train or bus to your end desitnation. Of course be sure to google how much that transportation will cost and how much time it will add on to make sure you're looking at the whole picture.
5) Don't be a rebel- follow the rules
If you book a budget airline it is ABSOLUTELY necessary that you read through ALL the fine print. Each budget airline is different and not abiding by the rules will cost you big. Some common things to check for are:
Check in ahead of time or pay a fee- you'll get reminders a couple of weeks to days in advance of your journey and its not just a friendly suggestion to check in early. It can cost you big time. For instance Ryan Air requires you check in at least 2 hours before you depart or you'll pay €55
Weigh and measure your suitcase- If your suitcase doesn't fit in that dreaded metal measuring contraption OR if it exceeds the weight limit you will have to pay extra. Often this limit is about 10kg (22lbs) and if it doesn't fit or weighs too much you'll pay upwards of €40 (and they will weigh it)
See if they allow personal items- It can often be taken for granted that personal items are ALWAYS allowed and with some budget airlines they are, but others have a hard and fast one item policy unless you buy a certain ticket
Do you need to print your boardng pass or do they allow mobile tickets- check this out ahead of time or there will be a fee €25+
vueling.com (Spain flights)
TRAINS
A great way to travel, but be sure to compare flying and train prices, as you may be surprised as to what ends up being cheaper. With train travel it is even more important than air travel to purchase your tickets way in advance. Some of the benefits are that you don't have the strict baggage and complicated check in rules to follow but it can take a lot longer to get to your destination.
Prices for train tickets can change a lot based on the site and you always want to buy directly from the 'country' train website to get the cheapest price but you can do your research using search engines. Our favorite search engines and the country specific train URLs are listed below
Search Engines:
GoEuro.com (covers train, bus, and flights (although thier flight search engine isn't great)
Country specific URLs for train travel
The honest answer is usually not but it depends on what type of travel you plan to do.
When a Eurail pass makes sense:
If you are going on a multi week journey across various countries and your destinations are fairly close to one another. If you want to jump from Paris to Rome to London this won't make sense for you because you will be wasting so much time on the train.
If you are abroad for a semester and want to visit many cities within several hours from you. Generally this is true if you are studying somewhere central like Germany, France, or even northern Spain or Italy. While studying abroad make sure to take at least some of the weekends to visit nearby regions or cities in your adopted home country! Eurail passes can be perfect for this and you can customize them for just 1-4 countries to help save funds.
When it doesn't make sense:
if you plan to cover several countries or cities far away from each other or where you are studying for the semester- you'll just be spending too much time on a train and not saving that much money. For instance if you're studying in Rome it will take nearly 17 hours to get there by train vs. a 2 hour flight
BUS LINES
Buses take forever, but may be your cheapest option at times. Central Europe is a little behind in their high speed rail connections, but they make up for it with bus companies. You can find some great options when trying to link up cities like Berlin, Prague, Krakow and Budapest.
Orangeways.com is a Hungarian bus line that connects many of Central Europe's top cities
StudentAgency.eu Even though it's called Student Agency, there are two things to keep in mind: they often don't have the cheapest rates, and anyone can ride these buses, not just students.
Eurolines.com is Europe's biggest brand and it spans the continent. You can find options that connect cities in Spain, France and England as well as Central Europe cities.
BerlinLinienBus is a German-based business but has numerous options beyond Germany.
BusBud.com is a website that posts blogs about the best ways to connect city to city by bus, with numerous articles about Europe, and other places around the world.
RIDESHARING
Ridesharing is becoming quite popular in many countries across Europe. Head to your country's site and shop around for connections moving out in the next few days. It's best to go with at least one friend, and always keep your wits about you when choosing to get in someone's car. For more links, google "Ridesharing" or "Carpooling [your country]"
Carpooling.co.uk is the best bet for starting your search. You can look up reviews and profiles of people you're considering riding with.
CAR RENTALS
Exploring a bit on your own? Now that you're across the pond, the rules are a bit different regarding rental cars. Check out Sixt, one of the largest car rental companies in Europe with over 4,000 locations across the world. Make sure to book in advance, and of course, inquire about student discounts!
Happy Backpackers

Great mix between learning and leisure. Our tour guide, Lauren, was extremely knowledgable and also very well connected. The weekend was a blast!

Dan McGlinn, University of Notre Dame

~ Notre Dame Global Gateway, Rome, Summer Break 2016
Spots are limited!
We keep our groups small, so save your spot now! Check out our Tripadvisor, App Store & Facebook travel love below.
Multi-City Adventures:
Stay up to date with upcoming tours, deals and discounts through our Facebook page!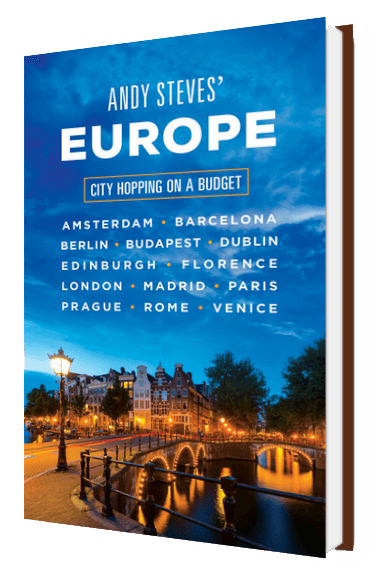 Pick a city and go! All new budget guidebook from Andy Steves, Founder and Chief Backpacker of WSA.