Blog
Udvozoljuk Magyarorszagon (Welcome to Hungary)
Posted by Intern in on October 10, 2013.
The quiet hallways of an empty Helsinki terminal at 1:30 in the morning is a world away from the energy and life of the streets of a gem city of Central Europe. The ultra-modern design of Finnish architecture certainly differs from the historic, pre-independent, Communist-era Hungary. The past few days are a thing of short memory, but my first visit to this less-visited–and overall less modern than that of its Western European neighbors–is still present in my mind.
My new friends and travel partners were wandering around the hills of Budapest, ascending to the city's highest point amid the rolling forests of brightly-colored foliage on the city's own chairlift. We all mutually agreed that there was something about Budapest that struck us differently than any other city we had been to. There's a certain something about the Hungarian capital that is unique; I just wish I could pinpoint it.
As I figured, the trip to Budapest with Weekend Student Adventures was fantastic, well-organized, and chock-full of activities. Honestly, I didn't think it would be anything short of fantastic (even with the bias of interning with such an awesome, growing company), but even so, the trip managed to open my traveler's eyes even more than my travels already have. As much as I like to think that I love planning and mapping out everywhere I go and everything I do, it always is a refreshing change to have a guide (especially a native of whatever city I am in) leading the way, filled with insider's knowledge that can only be known if you're familiar enough with the area. This balanced contrast is what makes a solid traveler, and actually, is what makes Budapest a really cool place to visit.
Hungary as a country is a land of contrasts. It's not quite in Eastern or Western Europe, but has pieces of each culture in its borders. It has the historical influence of both the Soviet Union in the East and from Austria and Germany in the West. It is part of the European Union, yet it has its own currency. It's pretty common to walk down the streets of Budapest and see modern buildings next to buildings that look like they were around before the fall of Communism (and they're still being used). The city itself isn't really that big (compared to many European cities), but it sprawls out a great bit and covers quite an area.
Then, there's the slightly more obvious contrast. The city itself, Budapest, is divided (literally) by the Danube River, pitting the hilly, wealthier Buda on one side, and the more urban, flat plain of Pest (pronounced Pesht). This, however, leads to some pretty diverse activities that are unique to such a city. Where else in the world can you take the public transportation into the hills and either go caving in the longest cave system in Hungary, while also take the same public transit system the other way to check out some bars housed in former World War II ruins and houses? Can't think of any? I didn't think so.
I'll admit, Budapest is certainly a city that can be just as confusing to get around as there is in Europe. Hungarian is a language that, well, is unique. That's for sure. On the tree of languages, Hungarian would be the branch way off on the side. Finnish would be the closest branch, but even people in these two countries have trouble understanding them. It can definitely be overwhelming just by looking at any given word. Letters that aren't normally together in English are together in this language. For instance, an 's' by itself makes a 'sh' sound (like in Budapest), but when an 's' is next to a 'z', then you pronounce the 's' as you would in English. Not much looks like English, like Spanish or Danish might, which makes having a guide leading the way helps all the more.
Having a tour to Budapest is a pretty bold travel move as it is. Ask a group of people where they would love to go in Europe and chances are that many wouldn't think about going to Hungary (I'd be curious to see how many people knew Hungary was a country). All of reasons make Budapest actually quite an appealing trip to take (at least with WSA). The people that choose to go to this city are the people who want to take a giant step out of their comfort zone and explore an unearthed corner of Europe. One does not simply enter Budapest unless there is some intention to visit this gorgeous place. It's not a random weekend fling, so those that come desire something more out of European travel.
Each day, we would meet up with Bogi, our guide, at a given time, then go off for the day, exploring all kinds of sights around the city. Budapest certainly is a walk-able city that is also aided by buses, trams, metro lines, and buses on overhead wires. The WSA itinerary focuses on efficient sightseeing, which entails seeing all the major sights of any city in as logical of an order and as focused on the logistics of getting there as possible. More bang for the buck, so to speak. There are a few planned activities, but all of these are optional. For instance, Saturday afternoon, we all went caving under the Budapest hills. That night, there was an option of going to a party inside a thermal bath (a unique part of the city itself….the Thermal Baths are DEFINITELY a must-do in Budapest, and I don't go to many spas). Along with the amount of activities, there is just as much free space and wiggle-room, which allows us travelers to not feel overwhelmed.
This wiggle-worm allowed for some of us to enjoy some parts of the city that weren't initially on the itinerary. A couple girls in our group and I decided not to hit the sparty (Spa + Party) Saturday night, so Bogi took us on a trip up to the former military castille, a fortress perched high atop Gellert Hill. This stretch of the river is on UNESCO's World Heritage List, and the views provide good enough reason for its place on the list.
However, when the sun goes down, the view gets even better. It may be a little odd to want to ascend a hill at 10:30 at night, but when you see the Danube lit up by the lights on both sides of the river (and across the river, thanks to the many bridges), the effort and the walking and the waiting for public transportation connections are all made worth it. This journey alone wouldn't have been as much fun or as possible if it weren't for A) a local guiding the way and/or B) the ability to do things apart from the set itinerary. This certainly added to my experience and made my night that much better.
So, now that I'm away from Budapest and headed on my way back to 'normal life' in Copenhagen again, I realize that I have been to quite a fun destination. Never would I have thought that I'd have the chance to train through Central Europe and spend a weekend in Budapest, in Hungary. The country that has been used in so many repeated puns is actually a legit travel destination.
Of course, I think anyone should go on one of the WSA trips, whether it is to Budapest or Krakow or Barcelona. I know how great they are. I also can't tell you what to do or immediately convince you. I just think the price is worth it. All the things the group gets to see and do is quite a list, plus all the transportation, plus all the optional activities, plus the not-listed moments of wonder, plus the guided help of a foreign city…..more importantly maybe, there's the chance and the ability to see a part of the world in as unstressed of an environment as you possibly can get. It will be an experience (a great, fun one at that) for sure that certainly is a solid idea during a free travel break or any weekend while abroad.
-- Robby Veronesi, WSA Intern Fall 2013, DIS, Denmark
Happy Backpackers

The trip to Budapest was amazing! I did not know what to expect from Budapest because my roommate just told me to go with her so I was up for anything, but it ended up being one of my favorite trips so far of my study abroad experience. The hostel we stayed at gave us an excellent taste of the Budapest night life while Bogi took us to places that I definitely would not have been able to get to on my own or had known about if not for her WSA tour. It was a great weekend and I highly recommend it.

Mary Reagan, Saint Louis University

~ St. Louis University, Madrid, Spring 2015
Spots are limited!
We keep our groups small, so save your spot now! Check out our Tripadvisor, App Store & Facebook travel love below.
Multi-City Adventures:
Stay up to date with upcoming tours, deals and discounts through our Facebook page!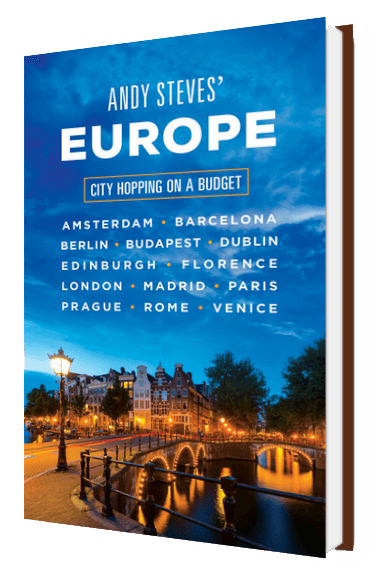 Pick a city and go! All new budget guidebook from Andy Steves, Founder and Chief Backpacker of WSA.