Blog
Touring Bloody Sunday
This year for St. Paddy's day, I figured that since I was in Europe, why not go to Dublin. So I blew off school the Thursday beforehand to catch a Ryanair flight at noon. On the plane, I realized I forgot my ATM card back in my apartment and would have to subsist on the €220 cash I brought with me in my backpack. I knew I could make it. Once I arrived, I was supposed to meet up with Stephen McPhilemy, a guide who does tours in the summer in Ireland for my dad's company. He's from Derry, but was in Dublin doing some business with his partner, who runs his own tour company called Paddy Wagon Tours and a hostel in Dublin. This weekend, both the tours and the hostel were packed with a couple hundred Australians, a handful of South Africans, and a couple Canadians. When I met up with Stephen at the bus stop, he said "You now Andy, you're gonna kill me, but we're gonna head back to the airport after I run some errands and catch a flight back up to Derry for a couple days." He explained that the government believes Irish citizens have a right to fly between cities, so flights are subsidized, making them cost the same as a bus ticket. Unfortunately, Stephen remembered a couple of minutes later that his passport was back at his house in Derry. So, we ended up taking a three-hour bus ride to Northern Ireland.
That night we met up with Vicki, his French-Canadian fiancée, for dinner at a grill restaurant under their apartment. After dinner, I dropped off my bag upstairs and we went out for a pint. I learned this weekend that "a pint" is never just a pint. Instead, at a minimum it's three pints and a nightcap of a shot of Jameson's. The first night was pretty chilly. We met some strange kids from Indiana studying in Derry for the semester. Derry's a cool town, but I wouldn't want to spend several months there. The girls there thought they could Irish dance as well, which was just embarrassing enough to watch.
On Friday morning, I walked around with Vicki, going into the museum and taking a tour of where "Bloody Sunday" actually happened. It was disgusting to hear about the British occupation and the Trouble years that have only recently ended. I had heard about the segregation of Northern Irish cities but it never really hit me until I saw it with my own eyes. The British lived inside the Derry castle walls on the top of the hill looking down at their Catholic counterparts. For years, young Catholics would have skirmishes with the stationed British military. People were killed with plastic bullets the size of saltshakers. One Sunday, inspired by the civil rights movement going on in the US, the Catholics were having their own march. The peaceful demonstration turned into a massacre of 17 Irish civilians--most of them teenagers.
While Vicki and I were touring, Stephen was supposed to catch a flight to London to meet up with a tour group and bring them across the water on a ferry to Dublin for the weekend. Well, he ended up missing his flight and on the way home picked up some Domino's Pizza, my first American-style pizza in months. This was a pretty American-style night. After that, we headed down to the movie theater and caught a showing of In Bruges, a movie with two Irish actors where they just rag on the cute Belgian city for two hours.
After that we met up with a friend of Stephen's at the pub. His name was Roighry, the Gaelic spelling for Rory, and he was the first Irish person I've ever met who doesn't drink (he sipped on a nonalcoholic Beck's). That night, Roighry was headed to a small BYOB house party and offered to take me along. After a few, Stephen handed me a key to his hostel, told me a few rooms were vacant, and said I could crash there after the party and he went back with Vicki.
Before we left the pub, I met a man with intense eyes, and a strong jaw. We started chatting as Rory left to get another "beer." Somehow, Cuba came up and we discussed Che, and other Cuban exports like rum and cigars. At that moment, he got really excited and started rubbing his thigh vigorously. When I finished what I was saying, he was like "Aye, aye Cuban cigars, rubbed on the thighs of fine young maidens." Switching gears, I mentioned how I had visited the memorial and the museum, and had seen the murals of Derry. Immediately, excitement returned to his eyes, which then turned into a look of hatred as he made it clear he despised the "feckin' British." He told me how he had carried the dead body of his friend in his arms, who had been shot in the head by a British bullet. Back in 1973, he was 23, his friend, 20. He continued to tell stories of that day until Rory came back. Just before I left, I shook his hand and whispered "F the British" into his ear, and the crazy look came back into his eyes again.
Once we got to the party a few blocks up the road, I found the fridge and deposited my beer contribution, keeping one to consume then. I tried hide the other cans among the fruit and vegetables and yoghurt, but in my gut, I knew that was a bad idea. When you're a poor student and someone takes your beer, it can ruin an evening. Well, the three beers I left in the fridge did get taken. Anyways, I got over it and started socializing. There were Germans, French, Japanese, Italians, and a Pole there--I think I was the only American. European house parties are different. They seem more intellectual, more mature. It's the kind of partying I want to be doing in 15 years. Not yet though, not yet.
Happy Backpackers

This past weekend, I traveled to Budapest with WSA with a couple of friends from my university abroad, and I couldn't have asked for a better trip! After arriving at the hostel, we met Bogi, our tour guide for the weekend, who was instantly friendly and welcoming. Throughout the weekend, Bogi was an amazing guide! She showed us some great places for shopping and food, as well as the top sights around the city. You could tell she loved her job and never passed up an opportunity to share about her hometown and some of its history. She was so friendly and was sincerely interested in us as individuals and did everything she could do accommodate our priorities for the weekend (whether it was food, shopping, nightlife, sightseeing, etc.) I would highly recommend WSA's guided tours for any student studying abroad who wants to explore more than their university's city!

Katrina Alford, Concordia University - Irvine

~ AIFS Richmond, Spring 2015
Spots are limited!
We keep our groups small, so save your spot now! Check out our Tripadvisor, App Store & Facebook travel love below.
Multi-City Adventures:
Stay up to date with upcoming tours, deals and discounts through our Facebook page!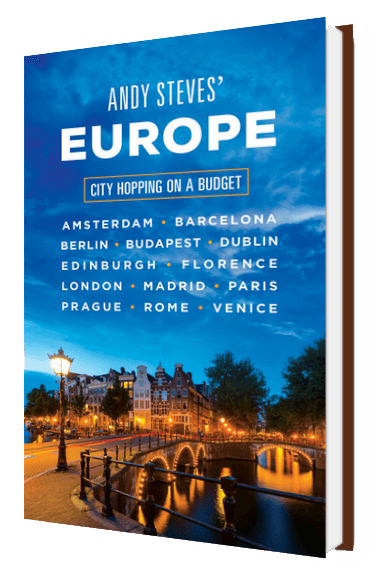 Pick a city and go! All new budget guidebook from Andy Steves, Founder and Chief Backpacker of WSA.