Blog
To Greece!
Last night I couldn't sleep. I woke up at 2:40, 4:30, 5:30, and 7. I was not about to miss this flight to Greece and my distrust of technology evidenced itself this night. It was finally time, so I rolled myself out of bed and shoved the last of my things into my rucksack. I shut my door, rode the elevator down and handed in my keys for the last time. As soon as I left Rome for the last time, I felt my keen observatory and mental note-taking tendencies slipping away. It was summer and now it was time for the real vacation to start. All I really wanted to do over the next week was eat Greek salads and gyros, and try this fabled Ouzo. Oopha!
Minutes into my time in Greece, the expression, "It's all Greek to me," clicked and now it made sense. I hadn't been this illiterate in a country since the end of the second grade.
A friend and I hopped out of the taxi from the airport and met the boss, Ioannis, and our skipper-to-be Tomek. Tomek was a young, short Polish man with beady, deep-set eyes who got into sailing after his father signed him up for a course when he was 14. Ever since, he's been on a boat for at least a couple months each year. Now, he comes down to Greece to skipper for Ioannis from May to September. He liked to rub his pointy chin when thinking, and has his well-practiced horizon gaze down to a T.
Within hours, the rest of our gang of student friends arrived. The first night on the boat found us trading traumatic childhood stories on the bow over grocery store wine while still in port. By the time we signed all the paperwork and bought the provisions, it was too late to get to the next port. So we chilled and discussed our long-lasting emotional scars from childhood. One from our group has always been scared of the oil stains on the ground around grocery stores because once, her mom told her they used to be children who disobeyed their parents. What a traumatic childhood that must have been, seeing the stains of your peers in every parking lot you went into. For me, I still vividly remember a wedding my mother forced me to go to saying all my cousins would be there. Not a one showed up, and we came to find out they were all having a pizza party back at the hotel.
Day 1: Athens-Sunyo
For the next week, our days were filled with long days at sea, some worse than others. This morning we left port early and went out into the open water and started 11 hours of sailing. There was a fifty percent sickness rate, with me coming in third after watching two girls heaving over the sinks. The six-foot swells got to me, and the coconut I had just eaten wasn't sitting right. With boats, the regular movement is up and down on each wave. Add 12-knot winds, and a full sail, and it turns that motion to a 45-degree angle. If you don't have a rock-solid stomach, you'll feel it for sure and we all kissed the ground as soon as we got into port.
Greek Salad Count: 1, Gyro Count: 0
Day 2: Sunyo-Mykanos
Today we made the shorter, four-hour trip into Mykonos, which is known for its clubbing opportunities. So we made it to the "Scandinavian" which didn't have horned war helmets or long boats adorning the ceilings. In fact, there was nothing Scandinavian about it but its name. One could care less when that's where the party is though, and we took full part in it.
Later that night, we headed back to the boat where I smoked my first Cuban, a Romeo y Julietta. Not bad, I must say. We finished them and crashed about 3:30 a.m.
Greek Salad Count: 1, Gyro Count: 2
Day 3: Mykanos
We woke up late the next morning and figured it would be a good idea to rent mopeds. For the day, we toured around the small island and found "Paradise Beach." The name is not too far off from the truth, but there was a rumored "super Paradise Beach" that we just had to find. About five miles down the road, we discovered it, set deep into some steep hills that we were barely able to maneuver our mopeds down as well as back up. I could have spent all day and all night there, where the beach chairs were catered from the bar-that-would-turn-disco at night. Unfortunately, the prices were almost exclusive and our poor budgets just couldn't afford a snack, let alone a cocktail. So we kept moving, leaving the two girls behind who decided to stay. They would end up finding their way home on a couple local boys' scooters. We spent the rest of the afternoon exploring until one of us crashed a moped on a wet part of a hill, breaking off a side-view mirror. Crashing sucks because it's not like it's fun, in fact, it hurts and then you have to drop a couple hundred euros just to fix it.
That night we returned to the Scandinavian, this time bringing Tomek. We crunked the night away with our skipper, who bought five double rounds of beers for himself and matched us with shots without us ever really noticing. By the end of the night, he was passed out on the deck of our boat after spewing for a while into the water. One of the girls disappeared at some point in the night only to meet up with us again back at the boat. Turns out she had traded a makeout session for a ride back to the marina from a local boy.
Greek Salad Count: 2, Gyro Count: 2
Day 4: Mykanos-Sunyo
Today we were supposed to leave at about 8:30, but my friends shook me awake at half past 10. Tomek our skipper, was still passed out from the previous night's activities, and resumed his sailorman language as soon as Connor woke him up. The day was long and boring on a thankfully calm sea where we motored away at seven or so knots till the evening.
Greek Salad Count: 2, Gyro Count: 2
Day 5: Sunyo-Grammata-Syros
Greek Salad Count: 1, Gyro Count: 1
Day 6: Syros-Athens
Today we got back into port. All my friends elected to stay on the boat, while I was itchy to get off and see the city of Athens. I asked Thomek how to get to downtown, where I finally made it after catching a tram "partly financed by the EU." Without a map or guidebook, I got off the tram and found a fancy hotel. I chose the Westin on the main square sharing it with the city hall. Any of these fancy hotels will have English speakers as well as free maps to hand out. So I asked them where a bookstore was, where I went to read up a bit on Athens. With some knowledge of the city finally acquired, I was free to walk around and check it out. I made it up to the Acropolis, had a Greek salad at a little café, and found my hostel where I was going to be staying for the next few nights.
Greek Salad Count: 1, Gyro Count: 4
Day 7: Athens
On Saturday, Connor and I just did the tourist thing, hitting up a few museums and eating more gyros. We went up to the Acropolis again, and made it to the National Art Gallery and the archeological museum.
Greek Salad Count: 1, Gyro Count: 3
Day 8: Athens
On Sunday night, we were drinking some beers in the square. All the benches were pretty much full. So we chose two benches to split up and share. Well, Connor sat next to two Americans who got up and left a minute after he sat down. I sat next to what turned out to be a couple Romanians. On the bench, there were the two of them, and their accordions. They were just taking a smoke break in between playing for the various restaurants surrounding the square. Instead of getting up, they scooted over and made room. Over the next beer, we had a conversation through sign language as we didn't share a single common word. As I got up, I said "buona sera" which actually turned out to mean the same thing in Romanian. It just stuck with me how often, Europeans are warmer and more friendly than even our own compatriots. And if you sit down next to them and try out a little sign language, you'll probably end up with a couple new friends.
Greek Salad Count: 1, Gyro Count: 1
Day 9: Athens
Greek Salad Count: 0, Gyro Count: 2
Total salad and gyro count in nine days: Greek Salad: 10, Gyros: 17
Happy Backpackers

The trip I took with WSA was amazing. We had an incredible tour guide and we got to see the most important attractions Krakow has to offer. We did vodka tasting, a golf cart ride through the jewish quarter, schindlers museum, Auscwhitz and Birkenau, and a tour of the whole city. We packed everything in in two days. I highly recommend this to people who are backpacking or studying abroad throughout europe. This is definetly targeted to a younger crowd, but was absolutely worth the money.

Charlie Moore, University of Denver

~ AIFS Salzburg, Fall 2015
Spots are limited!
We keep our groups small, so save your spot now! Check out our Tripadvisor, App Store & Facebook travel love below.
Multi-City Adventures:
Stay up to date with upcoming tours, deals and discounts through our Facebook page!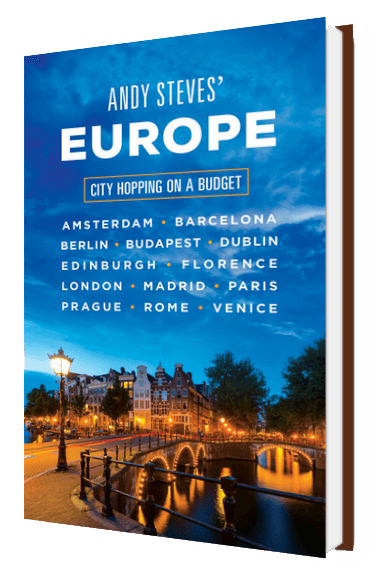 Pick a city and go! All new budget guidebook from Andy Steves, Founder and Chief Backpacker of WSA.