Blog
The Biking Vikings Ride Bornholm
Posted by Intern in on September 27, 2013.
Whoever said that Denmark was a flat country (which may or may not have included me), has never been to Bornholm. It seems as if all of the hills from the island of Funen and east towards Zealand were taken and placed on this tiny island hundred of kilometers away, creating some stunning rolling hills and scenery.
Bornholm…beautiful Bornholm…a small island region dubbed the 'sunniest part of Denmark' (and potentially rightly so) is the easternmost region within Danish control. Actually, it doesn't even fit on the map of Denmark without an inset box (a la Alaska, Hawaii, Puerto Rico and every other American territory). It is 200 kilometers from Copenhagen and is actually geographically closer to Sweden and Germany than its own nation.
Norway has its fjords, Sweden has its countryside, Finland has its archipelagos (and reindeer), Iceland has…well, everything. Simply put, Denmark kind of falls short when it comes to Nordic natural wonders….but it DOES have Bornholm. And they make sure people know it. The Danish flag flies high and proud (along with the occasional Bornholm flag–the Danish flag with a green cross) in the many small coastal harbor towns that dot the landscape with their red-tiled roofs, a palette of housing colors and enough boats to make an American think of Cape Cod, Long Island or Puget Sound in Washington.
This island is made for biking…it is after all the most popular method of transportation for both locals as well as the tourists that come from Denmark, Germany, Sweden, Poland, the United States, and beyond. There are hundreds of miles of bike trails that take a visitor into environments that range from forests to corn fields, coastline scenic trails to the small shoulders of the major roadways.
With a number of exciting sites spread out across the island, how do you possibly bike to all of them? Well…you obviously go on the 65 kilometer route along the southeast coastline and exterior to hit a number of them, of course.
BUT, Robby, how do you go on such a long bike journey if someone (say, your favorite UT student-turned-Danish travel blogger at the moment) is a young novice biker, having only ridden maybe three kilometers in his entire life?
Well….only God knows….adrenaline? The desire to explore an unknown land and not be held back by sheer lack of skill on two wheels? Naivety on how far 65 kilometers actually is?
Sure…all of the above works.
Needless to say, I am sore. My butt is sore from sitting a bicycle seat for six or seven hours. My hands were sore from grasping the handles so hard, half-praying I wouldn't smash my face open. My legs are still (and probably will be) sore from biking, as well as hiking for 10 kilometers on Sunday to finish my trek. My inner travel spirit, however, is raging skyward, on a travel high from being able to say I explored like a local and saw some hidden gems in a somewhat hidden part of Denmark.
The maybe appropriately named "Killer Route" winds down along the southeastern coast from our homebase in Gudhjem, through the seaside towns of Svaneke and Nexo before hitting the famous Dueodde Beach on the southern tip (where its sand is put into the finest hourglasses), before winding its way inland through Aakirkeby and the Almindengen ("The Common", a nice-sized forest in the heart of Bornholm) before heading back to Gudhjem….AKA one monstrous loop that needs a whole day in itself.
Looking back, it certainly wasn't pretty at moments (as if watching myself bike ever is pretty…might be entertaining for some). It DEFINITELY wasn't easy at moments (try every uphill on the back half), but I feel extremely encouraged that I managed to get through 65 kilometers without jumping in someone's car or onto a bus for help. Sticking through a hard activity does indeed feel rewarding….and Bornholm itself certainly added to the beauty.
I started and ended in two different groups, but for the most part, I took advantage of some individual travel. For me, especially on a bike, I like going at my own pace for several reasons. One is that I don't like holding the group behind (since I am so slow overall and new at biking); the other is that I tend to stop at everything and take pictures of everything (in case you didn't notice…), and I feel as if biking is more of a method to get to point B, not to necessarily help to enjoy the journey from A to B.
Maybe our group going in the middle of the off-peak season helped, but I felt like the road was all mine most of the time. I kind of now understand that desire that many have of just getting away, wind in your hair, free and independent feeling. Being in Denmark on a bike, riding on the side of a road or in the middle of the field while being stared down by goats and horses and cows provides a true sense of release from all the stresses in the world (maybe except for the soreness in your body at a given moment). What also helps is the amazing scenery of the coastline along the Baltic Sea (I actually was IN the Baltic Sea!!!!).
It's stunning, all of it. (Pictures will appear on Facebook as usual). The coastlines are rocky for the most part, with cliff faces jutting up from the water, waves lapping the stones over and over. The only noises on the roads, with the exception of a car or two, are the guttural calls of many seabirds, flying around and hanging out in the seaside towns. And when the sun begins to set, the sounds come down to silence. Just you, the road ahead of your front bike tire, the sunset on one side with the moon on the other. You almost forget what country you're in, since it feels a world away from the capital city you call home.
It probably is a lot more touristy and not as authentic in the summer, but at least in the fall, Bornholm (and maybe, in a sense, a more authentic Denmark) comes to life and splendors all who come visit. They say 7 out of 10 visitors come back…it's a little far (and a bit expensive) for a college student budget, but I guess nothing is ever out of the question. This island certainly is worth it.
-- Robby Veronesi, WSA Intern Fall 2013, DIS, Denmark
Happy Backpackers

I absolutely loved my WSA experience. I traveled to Rome over Easter Weekend and was able to do so many incredible things while I was there. We stayed at the Yellow Hostel which is kind of far from a lot of things but it was so much better than I was expecting it to be. I would definitely...

Reagan Brown, Southeast Missouri State University

~ Universitat Politecnica de Valencia, Spring 2016
Spots are limited!
We keep our groups small, so save your spot now! Check out our Tripadvisor, App Store & Facebook travel love below.
Multi-City Adventures:
Stay up to date with upcoming tours, deals and discounts through our Facebook page!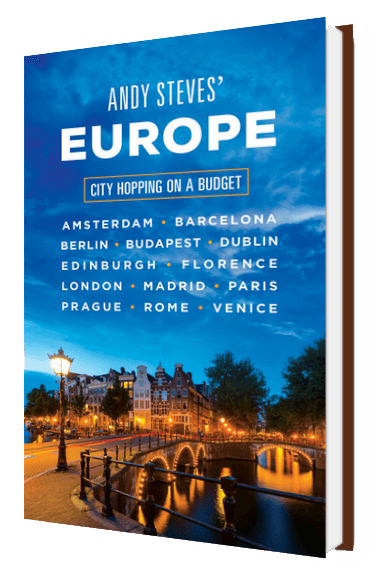 Pick a city and go! All new budget guidebook from Andy Steves, Founder and Chief Backpacker of WSA.