Blog
Smashing Mopeds
Friday was the day we decided to rent mopeds. It looked clear until the moment after we signed the paperwork and it started pouring. I almost passed on the day but then figured why not and went with it. I knew it was going to be a long day when my friend, right off the bat, rode his scooter into the wall. He wasn't hurt and the scooter still worked so we kept going. The place only had four scooters to rent, two 50cc's and two 125cc's, so one of the 125s always had two people on it and we set up a rotation. We headed to Castelbuono, where I had ridden to on Tuesday. On the way there, it was all uphill so there wasn't really much danger of sliding out. I was driving a 125 and my friend was clutching on and we were shivering like Lloyd and Harry from Dumb and Dumber on their way to Aspen.
We got to Castelbuono and sloshed into a café where we had some of the thickest hot chocolate ever, and tried to dry ourselves out. After that, we asked where we could get some pasta, and the woman there sent us over to her friend's around the corner. Once we sat down and took off our jackets, the owner rolled in a space heater and turned it on to help with the drying process. I was so glad I put on my thin, wool long underwear that morning so I could lose my cotton T-shirt. It's kind of sad though, having to wear long underwear on a spring break trip in the Mediterranean. We ate well and apprehensively put back on our semi-dried jackets and helmets and returned back to our motorinos.
We decided we had had enough and started back to Cefalu to return our scooters. Now it was time to head downhill and it was still raining hard. The four of us would spread out along about 200 meters of road so we'd lose sight of each other around every turn of the windy road. And around one of these I came upon Mark getting up off the ground and picking up his moped. He had slid out around a turn, but because the roads were as wet as they were, he wasn't hurt and his ride only picked up a small scratch or two. We continued along until we found a turn out and scoped out the damage. We didn't see anything so we kept going, and pulled over to wait for everyone at the very bottom of the hill. We were missing Frank this time. We waited for a few minutes then sent Mark back up the hill. He came back a minute later with Frank who had gotten too close to the wall and fell into it on the right side, hurting both his pinky and right side of the moped. All our hands were numb from the cold rain and he couldn't tell if his pinky was broken or not. So he got on the back with Mark on the 125 and I switched to Frank's 50cc that now had a newly broken mirror and stiffer steering. That accident would end up costing Frank €172.
Now we were going along flatter ground along the coastline, and we could see Cefalu in the distance. I was careful never to let myself get too comfortable with my motorino skills but I think others weren't as careful. A quarter mile after we turned off on the Cefalu exit, we pulled over again to wait for everyone to catch up. This time Joe was missing. We waited some more, then I doubled back to find him. I came across him at the turnoff wincing in pain. He had slid out on the main road at about 40 kph and slid into the other lane. Luckily there was no oncoming traffic, but he said three or four cars had pulled over ready to take him to the hospital. Again, because the roads were wet he wasn't seriously hurt, so he passed on that, but he had skinned his wrist, ankle, knee, and thigh as well as grinding away his mirror and the right side fairing. That accident would cost him €145. He didn't feel like driving anymore so Frank got back on my ride, and I switched to the 125cc that Joe had been driving.
Once we were back in town, we picked up some groceries, then headed to the gas pump to fill up before we returned the mopeds. Once we got back, the owner did the routine check on all the mopeds: We had crashed three of the four he had rented to us and he knew it. A fork was shot, two mirrors were broken, and there was some serious cosmetic damage. He wasn't too happy. He went back inside and wrote up the bill for Frank and Joe who had to pay immediately. It would have been awesome any other day with better weather--and cheaper. I'd definitely recommend renting, just don't do it on a rainy day. Or you can be like me and just not crash at all. That night we compared bruises, abrasions and stories over beer pong late into the night.
Happy Backpackers

Andy and his crew were awesome. They helped us navigate the city and showed us its innumerable historic sites (Colosseum, Vatican, Trevi Fountain, etc.) with the option of going to Easter Mass at the Vatican if you pick the right weekend. All I have to say was that being in the third row at...

Joshua Dyer, Bridgewater State University

~ University of Limerick, Spring 2016
Spots are limited!
We keep our groups small, so save your spot now! Check out our Tripadvisor, App Store & Facebook travel love below.
Multi-City Adventures:
Stay up to date with upcoming tours, deals and discounts through our Facebook page!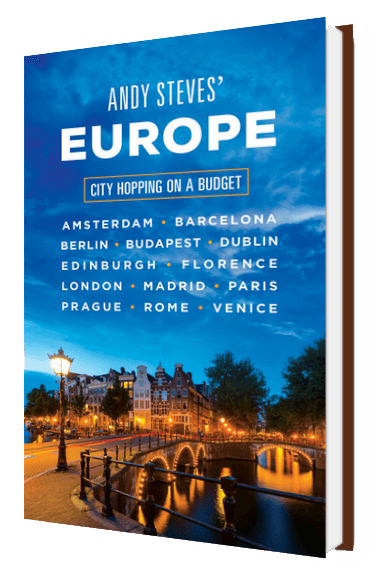 Pick a city and go! All new budget guidebook from Andy Steves, Founder and Chief Backpacker of WSA.