Blog
Sigame y Descubra Mi Barcelona
Posted by Intern in on November 21, 2013.
I'll be honest….I wasn't sure what I was going to think of Barcelona. It seems to be one of those cities that many people that study abroad want to go to (also, it has a solid reputation of having some good nightlife options as well….shocking how those two seem to go together—'tongue in cheek'). Outside of that, the only exposure I've really had to the city was either via its well-known football club and the Cheetah Girls, the latter of which I tend not to publicly refer to (I may or may not have had 'Strut' in my head for a good portion of the time sightseeing). Now that I'm leaving–and headed to the 'other part' of Spain–I've really enjoyed my time in Barcelona and I can see why it is such a well-known and popular travel destination.
Coming down from Scandinavia in November, it's pretty refreshing and well-received to be able to wear shorts and t-shirts while strolling down wide boulevards flanked my rows of trees (including palm trees!). I imagine that the shade that was pleasantly received by the number of people wandering around now welcome the same shade with wide open arms come July or August. There's an airy, open environment (as least in the touristy areas) that contrasts nicely with the small corridors and winding maze-like alleys of the smaller, less touristy neighborhoods.
Barcelona rose to power because of its location on the Mediterranean Sea. Its growth and following prosperity as an industrial and trading hub of Spain gave the large Catalonian city wealth and power, as well as all the struggles that come with the two. Its history isn't necessarily the cheeriest around. It's had its plagues, its wars, its military defeats, its dictatorial reign, its royal beheadings and a lost royal lineage (the final king of the original line died from a combination of illness and laughter…yes…a joke was so funny that it put him over the top and he died).
It's also had a massive geopolitical battle dating back many centuries. The region of Catalonia/Catalunya/Catalan/etc. (formerly called Aragon) has always been in the middle of some territorial claim. Originally a part of the Western Roman Empire, it later became a territory of the Visigoths after they took over the W.R.E. In 718, while the rest of Spain was being settled, the Moors came from the Middle East and settled in Catalonia, joining Andalucia in the southern part of Spain. Spain itself wasn't even fully unified, but it made strides in 1469. The marriage of Aragon's King Ferdinand II and Castille's Queen Isabella I became one in marriage (the pair sound familiar? try Columbus) This new bond with the royal monarchy of Madrid and the South-Central (known as Castille), along with its friendship with the equally large royal empire to the north (known as France) led to a time of peace for Catalonia….that is, until the War of Spanish Succession happened and the French Bourbon king (Louis XIV) became ruler of Catalonia. The Catalans said 'no, we won't go', the French got angry at this and slayed a bunch of citizens.
Fast forward several years to the 20th century, where things get a little more normal. A renaissance begins to occur, providing a glimpse of hope, but then the time bomb that was Spain went off and the Civil War engulfed the country for quite a few years. When this episode appeared to be over, along came a man named Francisco Franco. He was many things, but he was also a powerful Fascist dictator that cancelled all pre-existing autonomies and any traditional languages and cultural symbols that differed from the 'Spanish Way' of doing things….
The point of the whole history lesson is to prove that the atmosphere of Barcelona screams rebuilding and re-improvement. Every time the people of this region were ever down, beaten, defeated or held back, there was always a way that they came back and made a statement. Today's Barcelona is a grand mix between Spanish and Catalan, the Red and Gold Spanish flag and the Red and Gold-striped Catalonia flag, simplistic and strong gothic-style architecture and colorful/creative modernist architecture. Whether it's because of its location bounded along the sea by the rolling hills or because of its strong history of being an independent, autonomous people, the city of Barcelona is certainly more than just a different flag and Lionel Messi.
There is a passion–that Spanish romantic grandeur that everyone rants and raves about–that fills the streets throughout the city. Like a strong flamenco performance, Barcelona is fierce yet gentle, intense yet calming, sultry and entrancing yet tranquil and awe-inspiring. With an acoustic guitar as its instrument of choice, the city springs to life in a different crescendo and altering tempos that bring the city to life and give it its all too familiar flair and flavor. It rises to the occasion when its people band together to chant for RCD Espanyol, one of the people's teams (arguably more so than FCB?). It presents itself wide open to those viewing it from the aerial gondola spanning the distance from Monjuic to Barceloneta. It struts its elegance everywhere, from Las Ramblas and Passeig de Gracia to the tiny alleys of the Gothic Quarter. When the sun goes down, the heat gets turned sky high with the passionate intensity of a fast-paced, late night flamenco performance. And, almost as a grand finale, the sun naturally descends off in the west and, unlike many other sunsets, the sun's trail spews out an illuminating shade of orange (Go Vols!) that fills the twilight sky, giving viewers at Parc Guell, Montjuic, Tibidabo, or any of the other elevated platforms, one last taste of Barcelona, a magical city on the Mediterranean.
-- Robby Veronesi, WSA Intern Fall 2013, DIS, Copenhagen
Happy Backpackers

The trip I took with WSA was amazing. We had an incredible tour guide and we got to see the most important attractions Krakow has to offer. We did vodka tasting, a golf cart ride through the jewish quarter, schindlers museum, Auscwhitz and Birkenau, and a tour of the whole city. We packed everything in in two days. I highly recommend this to people who are backpacking or studying abroad throughout europe. This is definetly targeted to a younger crowd, but was absolutely worth the money.

Charlie Moore, University of Denver

~ AIFS Salzburg, Fall 2015
Spots are limited!
We keep our groups small, so save your spot now! Check out our Tripadvisor, App Store & Facebook travel love below.
Multi-City Adventures:
Stay up to date with upcoming tours, deals and discounts through our Facebook page!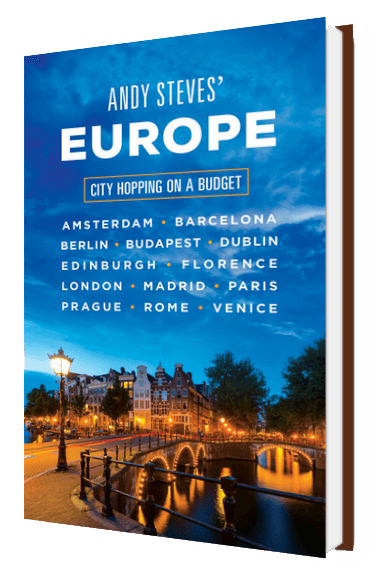 Pick a city and go! All new budget guidebook from Andy Steves, Founder and Chief Backpacker of WSA.