Blog
San Siro, A Monument to Futball
On Saturday morning we shook off our hangovers and tried to do some tourist stuff before our date at San Siro, the soccer stadium for an Inter Milan vs. Fiorentina game. We first went to wander around the fancy shopping district. In two minutes we saw four Ferraris and as many Porsches. If I ever have too much money, this would be where I'd spend an afternoon shopping.
Next we went into the Duomo. That thing is absolutely massive. I know it's smaller than St. Peter's in Rome, but its Gothic style makes it feel bigger and look taller. We checked out the skinned statue by a student of da Vinci, and wondered through the sequoia-like pillars vaulting the ceiling.
After a bit of admiring, we went back outside to climb up the stairs to the roof of the Duomo. After several hundred, we reached the vista. The skyline of Milan isn't all that impressive, so we set about entertaining ourselves. If you walk down the spine of the roof and continue on up the stairs to your left, you come upon a couple spiral staircases built into some flying buttresses. They looked like they would be fun to walk up and look out from. Unfortunately, they've been blocked off for a while now with plexiglass and pointy spikes. Only for a short section though, and the Gothic decorations looked like perfect grips and footholds just begging to be utilized. So after a few minutes of personal turmoil and waiting for the other tourists to disperse a bit, my friend Clif and I sacked up and climbed the outside of one of the towers and jumped over the spiral railing. We stayed low as we climbed a couple flights of these steep stairs and looked out to our other two friends waiting to take some pictures of us. We poked our heads out from the top and smiled down while our friends took pictures along with some pointing Japanese schoolgirls. Not wanting to test our luck and linger, we descended back down and jumped out of the opening where we climbed in. We almost didn't do it because we were scared of being detained and not released until after the game later that afternoon. Looking back, so glad we did it. There are times in life when you have to skirt boundaries and go around blocked-off opportunities in pursuit of adventure. As Nike says, "Just do it."
When we were back on the ground trying to find a place to eat, we watched a crippled man juggle a soccer ball with his head, and his two crutches. In half an hour, we never saw him drop the ball. We gave him a few euros for his skills and went off to find our lunch place. Right around the corner we found a delicious fried calzone eatery, as tasty as it was unhealthy. From there we went towards the castle of Milan and walked around in the courtyard. I didn't spend any time reading about the castle, so I don't know much about it. I just remember Milan and Florence were often at odds throughout the Middle Ages and the Renaissance. So I bet the castle was from about that time. While walking around in there we met and immediately got into an argument with a Kenyan immigrant selling vibrating rocks and sunglasses. He was a fan of the rival Milan team, AC Milan, and made it known immediately when he saw our Inter Milan scarves we had bought earlier outside the Duomo. We spent half an hour walking around in the giant walls and we left with the Kenyan yelling "F**k Inter!!" from across the courtyard.
It was then time to hustle back to the hostel to drop off the Armani posters we picked up and a catalogue of expensive watches. We quickly finished our second fifth of Bombay, making the tonic stretch, before we headed out to San Siro. We headed out and took a left from the hostel parking lot. I felt like we were going the wrong way from the start. In the past, the only time I ever get lost is when I don't trust my directional instincts. I don't know what it is, but if I second-guess myself, that's when I get turned around and lost. Luckily it was like playing the warm-cold game. I knew we were getting warmer by the number of Inter Milan memorabilia we saw. Eventually we found a commuter parking lot and caught a bus that took us directly to the stadium. In a situation like this, just go with the crowd. No need for maps.
I have never seen something as big as San Siro, the Milan soccer stadium. It looks like an absolutely massive parked space ship. The spiraling access ramps look like the landing pods. I can't imagine the sheer number of loads of concrete that would have been used to build the place and the logistics of its creation. This place attests to the genius of man--and his love of soccer. After a while, we finally found the entrance to our section of the stadium. Due to the violence over the years related to the sport, security is always tight and each name and passport number is registered every time a ticket is bought. To get through the first and second gates we had to present our IDs and tickets.
To me, a soccer game is a soccer game. It was fun to watch but I just can't get emotionally invested in the sport. Everyone else in Italy can though, I've noticed. By chance, we landed tickets for the 100-year anniversary game and there was a huge ceremony on the field that all the fans stayed for. It felt like a tacky Olympic Opening Games ceremony with a small budget, but we stayed for a while until we couldn't handle the deep booming voices of the announcers and the emotionally charged serenading taking place.
Happy Backpackers

I chose to do this rather than book my own trip in Rome - I wanted to experience one organized/sight-seeing trip rather than a relaxing vacation like many of my others had been. Two friends and I signed up for WSA Rome and don't regret a thing. We met wonderful people, were led by an awesome tour guide Rhianne, and got to see everything I wanted to see in Rome. Plus eat all the best food. There is an optional dinner on the last night that we didn't do right away, but we ended up going to it, and it was SO worth the 20 euro. I made memories and friends, and got to see a beautiful, historic city thanks to WSA!!

Mallory Dirks, Simpson College

~ University of Roehampton, London, Fall 2015
Spots are limited!
We keep our groups small, so save your spot now! Check out our Tripadvisor, App Store & Facebook travel love below.
Multi-City Adventures:
Stay up to date with upcoming tours, deals and discounts through our Facebook page!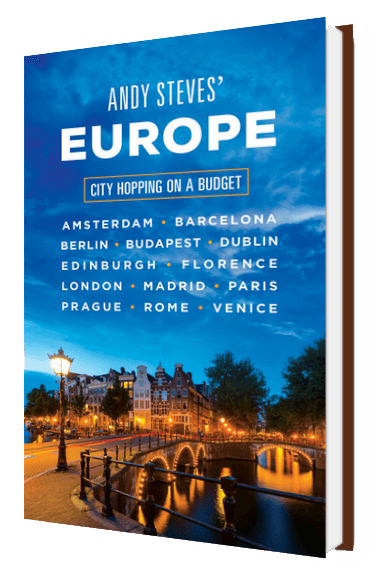 Pick a city and go! All new budget guidebook from Andy Steves, Founder and Chief Backpacker of WSA.