Blog
Rome's Ice Bar, Catching My Train, and the Bike Delivery
Back in February, I sent out a short message to the other kids in my program saying I knew a guy who could get us rooms in the Cinque Terre if anyone was interested. Initially I expected eight or ten or twelve positive responses. Well, that turned into 16, then 19, then 24, and finally 27. So this weekend I unwittingly organized a trip for a group bigger than the ones my dad puts together.
When I travel, I kind of make it up as I go and if I make a mistake, no biggie. When there's that many people following you, each mistake of mine is multiplied by 27, and that comes with some pressure. My friends could have done it on their own, but for convenience I went ahead and reserved the rooms.
On Thursday night, we weren't feeling like staying out very late. I hadn't gotten much sleep the previous week, and we had an early train to catch. I had heard about an ice bar somewhere in Rome, and figured this would be an opportune time to check it out. If nothing else, I couldn't afford multiple drinks there, so making it an early night fit the situation. So a few friends and I made our way over to near the Cavour metro stop. There, we first stopped in for a pint at the Irish bar across the street to wait for another friend. When she arrived, we tried to burn the warmth of a normal bar into our memories and headed to the blue door of Ice Club Roma. I have been to the Absolut Ice Bars in Stockholm and Copenhagen, but this one is privately owned. You hand over your €15 entrance fee, and they give you a drink ticket, a jacket, and a pair of gloves. Then they lead you into the middle chamber that keeps the cold in, where they shut the door behind you. Then, with a click of a button on the wall, you step into sub-zero temperatures, space-age trance techno and a morphing rainbow of lights matching the tempo of the throbbing music.
Inside, we enjoyed a variety of cocktails and drank them out of a martini-shaped glass made out of ice which by the end of a drink, molds to your mouth. It was a quieter night so my three friends and I just chatted with the owner for the next hour. We talked about politics, electricity bills, Italian bureaucracy, other ice bars around Europe, and the history of his business.
Originally he intended to open another Absolut Ice Bar in Rome, a franchise, but when looking into it, he became fed up by the strict brand regulations. The shape of the Absolut bottle has to be everywhere all over, and he wanted more freedom to do exactly what he wanted in his winter wonderland. At times, he brings in ice carvers from around Europe and has them do various sculptures and competitions. We ordered vodka and amaretto, vodka and blueberry, some kind of red fruit and vodka, a coffee liquor and vodka, and a licorice vodka. All with inspiring names, all escaping me now, and all were delicious, but by the end of your second drink, it's tough to hold up your glass and take a sip because you're shivering so bad. When the shivering got bad enough, we downed the last of our drinks and said goodnight to Matteo, the owner.
Taking the bus home, I had a decision to make, wait for the connection night bus, or crash at my friend's apartment and set my alarm early enough to make it back and finish packing for my trip the next morning. Well I was feeling lazy and made probably the worse of two choices and decided to occupy my friend's couch for the night. I set my alarm before I fell asleep for 6:00. The next thing I knew, my friend was shaking me awake telling me it was 6:50. I had slept through my alarm and had a total of 45 minutes to throw my shirt and shoes back on, sprint back to my apartment, finish packing in a total of four minutes and grab my now-sold bike, run down to the metro stop, catch it to Termini, run up the three flights of stairs through the morning crowds of the main train station to the platform and finally jump through the closing doors of my train at 7:35. I made it. But I could smell the vodka in my sweat, as I stood there, hunched and heaving over my bike box looking at the Roma Termini station slowly fading into the distance.
Missing the train with two dozen friends expecting me to be their tour guide would have been horrible. I found my friends in car 9 and collapsed into a seat after I shoved my bike box up into the ceiling racks. Four hours later, I called the dude who bought my bike. I told him we'd be twenty minutes late, and he said he'd be there. "Saro con scatalone," I said, "I'll be the one with the big box."
We rolled into the La Spezia station and I met Christian at the top of the stairs. He was a nervous and a bit awkward guy in his late twenties. I think anybody would be though, in this situation. I asked him if he had been involved in the sport before, and he said no. I opened up the box, showed him the bike—reviewed all the parts--and he handed over the €550. With a handshake and a pat on the back, I was done with my blue-and-white 2007 Pinarello. All over Italy, it had served me very well.
Happy Backpackers

I had such an awesome weekend with my WSA group! Our leader was so great, really cool and nice. We got to see everything and it didn't feel rushed at all.

Gerty Flagg, Keene State College

~ Fall 2015
Spots are limited!
We keep our groups small, so save your spot now! Check out our Tripadvisor, App Store & Facebook travel love below.
Multi-City Adventures:
Stay up to date with upcoming tours, deals and discounts through our Facebook page!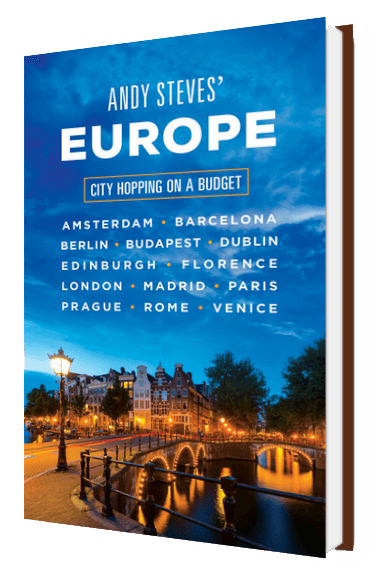 Pick a city and go! All new budget guidebook from Andy Steves, Founder and Chief Backpacker of WSA.