Blog
Studying Abroad In Unknown City
By WSA Intern Monique Lynch
Use the code MoEnEspana10 for €10 off your WSA trip
Studying abroad is the best experience I've ever had. With that being said, a huge part of my positive experience is being in a city that most people have no idea exists. I am studying abroad in Jaén, which is in southern Spain. It is in the region of Andalucía and the province of Jaén. Most of the time, when people think of Spain, they think of Madrid or Barcelona, and while each are gorgeous cities in their own right- Spain has so much more to offer. Here are 5 ways being in a lesser known city, like Jaen, is totally different than being in a tourist city.
1) Nobody Speaks English- and that's a good thing
Well, "nobody" is an exaggeration. The students here study English in school but they don't study it to be fluent. They study it because it is a requirement to graduate from college. Public service, grocery store, and transportation employees all speak Spanish, and most of the time they don't understand English. This is helpful if you are trying to become fluent in Spanish because you are forced to use Spanish to function daily. When in Madrid, if I struggle with a word in Spanish, 85% of the time, the person who is helping me will switch to English. This is great for travelers and native English speakers. On the other hand, I am adamant about becoming fluent in Spanish so it can be a bit frustrating when native Spanish speakers switch to English.
2) Transportation Sucks Sometimes
When the students in my program are traveling out of the country or to northern Spain for a weekend trip, we must leave on Thursday or super early on Friday just to get enough time in the city, and of course this extra travel time needs to be factored in on the way back too. So arriving back from 'vacation' can sometimes leave you exhausted and bleary eyed in Monday morning classes. I just got back from the WSA Amsterdam trip with a group of 5 other students in my program. We left Jaén on Wednesday at 3:30 pm, meaning we missed school on Thursday. We arrived back in Jaen at 6:00 pm on Sunday, which means we only had a few hours to relax and catch up on homework. Within Jaén, public transportation amounts to taxi's and buses. The taxi drivers refuse to drive short distances and the buses are generally on time when they feel like it. I choose to take the glass half full outlook with this because I get in plenty of exercise walking places, and it has been a great way to explore the city and discover things I never would have spotted if I were on a bus.
3) It's Cheaper
I saved so much money by staying in Jaén. Everything is cheaper. Rent, groceries, transportation, going out, etc. is cheaper than if I had stayed in a tourist city. I can get a full meal for less than €10 when I go out to eat. One bus ride is €0.98 and with a student card it's €0.49. I purchase all my groceries for less than €30 every time I go, which is once every two weeks. Here's an example. Today, I ate at a restaurant in Madrid and I ordered a pizza and a drink. I paid €11.50. In Jaen, when I order a pizza, I always get the deal that comes with a small sized pizza, a side and a drink, all for €8. I got more for less. That's the way things are when you stay in a relatively small town.
4) El Correo
"El Correo" means "mail" in English. The mail system is also a bit slow because everything being sent internationally goes out of Madrid. Any postcards I've sent have taken about a month or longer to get to the recipient. Others in my program have received care packages and it took even longer than a month to receive them because it had to go through Madrid customs. At this point, we have told our families not to send anything else because by the time it gets here, it will be time for us to come back. Some people still haven't gotten packages from before Christmas and it's March. Some people had to travel to Madrid to pick up their package and Madrid is 3 hours away. My Grandma just sent me some detergent and hygiene products from home and I'm hoping it gets here before I leave in June.The mail system here can be a bit rough.
5) Different Perspectives on Spanish Culture
In a tourist city, study abroad students have more opportunities to leave and travel elsewhere on the weekends so they don't really embrace the city that their studying abroad in. I went on trip to Morocco in October and a few of the people I met were studying abroad in Madrid. They were listing off all of the places they had visited outside of Madrid, and said they wished they had spent more time exploring their temporary host city. Because it takes longer to get out of Jaén the students in my program prefer to stay here most weekends. That means, we've spent more time with our host families, we've been to all the monuments and sights, and we've had more time to embrace true Spanish culture. I have one friend who goes over to her host family's house on weekends and they cook together so now she knows how to make a few Spanish meals. I have another friend that has a membership to the local rock climbing venue and he spends some time there on the weekends. I hang out with my host family every Tuesday and whenever they have friends over so now I have other activities I can do with a handful of Spanish families around Jaén. In a way, we've become locals.
So, as you can see, there are ways that studying abroad in a tourist city can be great and studying abroad in an unknown city can be great. It's all about what you prefer personally and what kind of experience you're looking for. When I first arrived, I was bummed out by the idea of living in a small city but now, I understand Jaén and I appreciate it. There are some aspects that I wish were different but if I had to choose to stay somewhere else, I wouldn't. Jaén has character and personality. Before I left the states, I came across this meme that said "You will never be completely at home again, because part of your heart will be elsewhere. That is the price you pay for the richness of loving and knowing people in more than one place." This is true to my personal experience and now a piece of my heart will be here, in Jaén. So wherever you go, make sure it is right for you and it reflects the person you want to become.
Happy Backpackers

I chose to do this rather than book my own trip in Rome - I wanted to experience one organized/sight-seeing trip rather than a relaxing vacation like many of my others had been. Two friends and I signed up for WSA Rome and don't regret a thing. We met wonderful people, were led by an awesome tour guide Rhianne, and got to see everything I wanted to see in Rome. Plus eat all the best food. There is an optional dinner on the last night that we didn't do right away, but we ended up going to it, and it was SO worth the 20 euro. I made memories and friends, and got to see a beautiful, historic city thanks to WSA!!

Mallory Dirks, Simpson College

~ University of Roehampton, London, Fall 2015
Spots are limited!
We keep our groups small, so save your spot now! Check out our Tripadvisor, App Store & Facebook travel love below.
Multi-City Adventures:
Stay up to date with upcoming tours, deals and discounts through our Facebook page!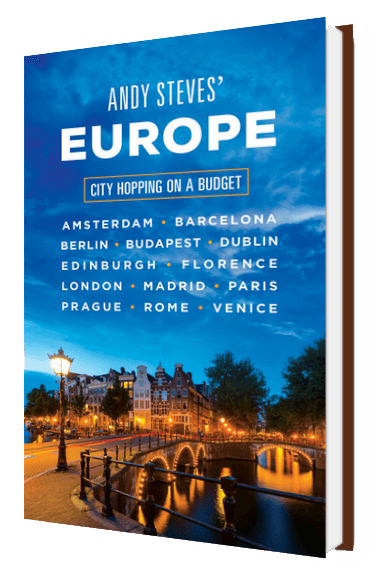 Pick a city and go! All new budget guidebook from Andy Steves, Founder and Chief Backpacker of WSA.