Blog
I left my heart in Italy
Posted by Andy Steves in on November 25, 2014..
Tags: Venice,Florence,pisa,Rome,Italy,Travel,Study Abroad,blog,journal,WSA,2014
by Lucas Walkowski, WSA London Intern
I could think of a million different reasons why anyone should choose WSA's Italian Extravaganza for their fall break. In a country full of so much history, art, architecture, culture, and great food, I fell in love with Italy.
Here's my story…
Love at first sight – Rome. I got into Roma late on Thursday night with Alitalia and headed straight to the hostel to rest up because I was exhausted! The next day, we me our guide Rhianne before heading to the Vatican to meet up with a tour guide who took us to see the museum, the Sistine Chapel, and St. Peter's. As a Catholic, this was one of the most unreal experiences of my life! I grew up learning about this place and actually being there was breathtaking. We spent the rest of the day exploring the city on foot, eating pizza and fresh gelato of course from two of Rhianne's favorite spots. We saw the Pantheon (Rhianne's favorite Roman building), a ton of beautiful churches, and the place where Caesar was supposedly stabbed. For dinner, you guessed it – we had pizza! Then headed out to experience some Roman nightlife courtesy of Rhianne's favorite places!
The next day, we headed to the Coliseum. Let me just tell you, if you have ever seen the Eiffel Tower, remember the first time you see it and you just don't know what to say or think? That's how the Coliseum was. It's one of the oldest surviving structures in the world and there I was right in front of it. After, our guide that day took us through the Roman Forum and Palatine Hill, again amazed at all of structures that survived for so long. After grabbing un panino (which was perfecto), we saw the Trevi Fountain and the Spanish steps (two more iconic, breathtaking moments) before watching the sun set on the top of the hill. Courtesy of WSA, we were treated to a delicious multiple-course dinner leaving me and my stomach satisfied.
Sunday morning, we headed to the Vatican to see the Pope speak. As I said, I'm Catholic so this was definitely a Top 10 moment in my life to date! Even if you're not Catholic, it's still awesome to see. We meandered about before grabbing our train to Florence where we spent the evening there seeing the big sights like Il Duomo, the Ponte Vecchio, and much more! We saw even saw a copy of Michelangelo's David outside the Palazzo Vecchio!
The one – Florence. Florence was by far my favorite city and I can't even tell you why; it just was. After wandering the streets and having a delicious dinner the night before, we rested up for Monday, when we set out to see all of the big sights again but in the daylight, venturing into Il Duomo and across the Ponte Vecchio. Il Duomo is massive and a site to behold and beautiful both inside and out. The Ponte Vecchio was insane, especially after learning the history behind it. I secretly wish I could have snuck through the passage that runs over the bridge! Later that afternoon, we headed back to Il Duomo to climb to the top (I'm talking about 460+ steps) for the most breathtaking view of the city. If you go to Florence, you must climb to the top. Just do it. I think that's when I really fell in love with that city. Later that night, we had a Tuscan wine tasting from a true wine connoisseur and I had wild boar pasta (which was surprisingly delicious) for dinner!
Tuesday morning, we checked out the Bargello Museum where we saw Donatello's David and many other sculptures and works of art. We then went to Santa Croce Church. This church, in my opinion, is a MUST see! It's beautifully intricate and houses the tombs of Michelangelo, Dante, Machiavelli and many more. Really worth the few Euros I paid to go in.
A historical sight – Pisa. So we were only in Pisa for about a little over an hour because it lies between Florence and Cinque Terre via train, but we got to see the Leaning Tower, which was a highlight of the trip! I just have to say that it really does lean, like a lot. After, we headed back to catch a train to Cinque Terre.
The beauty of it all – Cinque Terre. We picnicked the night we got to Cinque Terre, trying some of the local delicacies like focaccia and pesto and fresh prosciutto – delish! Then we passed out after an exhausting day of travelling. Wednesday, we saw the five cities of Cinque Terre, partly by hiking! We first went to Riomaggiore by train, climbed the rocks out in the inlet and then trained all the way to the last city – Monterosso before beginning the hike. 2.5 hours up and down the mountain was grueling but the view of Vernazza at the end made it worth it all. We then spent the rest of the afternoon sunbathing on the rocks in Vernazza only to watch one of the most beautiful sunsets I have ever seen. For dinner, Rhianne found this tiny little restaurant in our town of Manarola where the freshly made seafood pasta gave me back all of the calories I lost while hiking! It was definitely one of the most beautiful places I've ever been. We packed out bags and headed to Venice the next morning…
Sealing the deal – Venice. Venice was something magical. With no cars, it was certainly a relaxing end to the trip. Thursday night, we of course got more pizza for dinner before heading to Campo San Margherita where all of the local college kids hang out at night. Then we hit the hay for our final day of exploration.
Friday morning, we headed to the Rialto Bridge to see the giant market with tons and tons of fresh seafood. We explored a bit more learned all about the rich history of Venice from Rhianne before heading over to San Marco's to see the square and the church. Sensing a theme here? San Marco's was definitely another one of those sights that just left me awestruck. Immediately after, we went to a glassblowing presentation which was sick because we got to see how all of the famous Venetian glass masterpieces were made. We then ate some lunch before embarking on a gondola ride, where I put on my sunglasses and secretly pretending I was James Bond on a Venetian vacation. That day was actually Halloween, so we bought masks and walked around the city that night, learning all about its haunted past.
The entire week was a blast, and that was a very shortened account of everything we did. The best part? Our tour guide Rhianne! She lives in Rome and has spent a lot of time in both Florence and Venice so she literally knew EVERYTHING and I feel totally enriched after spending the trip with her. Her incredible knowledge of this history and art and architecture, I think, is part of what made me fall in love with Italia. So THANKS RHIANNE!!!
If you're looking to explore 5 amazing Italian cities in a short time, WSA is the way to go. I could keep typing and typing but I think you get the picture. Thanks WSA!!!
Happy Backpackers

This past weekend, I traveled to Budapest with WSA with a couple of friends from my university abroad, and I couldn't have asked for a better trip! After arriving at the hostel, we met Bogi, our tour guide for the weekend, who was instantly friendly and welcoming. Throughout the weekend, Bogi was an amazing guide! She showed us some great places for shopping and food, as well as the top sights around the city. You could tell she loved her job and never passed up an opportunity to share about her hometown and some of its history. She was so friendly and was sincerely interested in us as individuals and did everything she could do accommodate our priorities for the weekend (whether it was food, shopping, nightlife, sightseeing, etc.) I would highly recommend WSA's guided tours for any student studying abroad who wants to explore more than their university's city!

Katrina Alford, Concordia University - Irvine

~ AIFS Richmond, Spring 2015
Spots are limited!
We keep our groups small, so save your spot now! Check out our Tripadvisor, App Store & Facebook travel love below.
Multi-City Adventures:
Stay up to date with upcoming tours, deals and discounts through our Facebook page!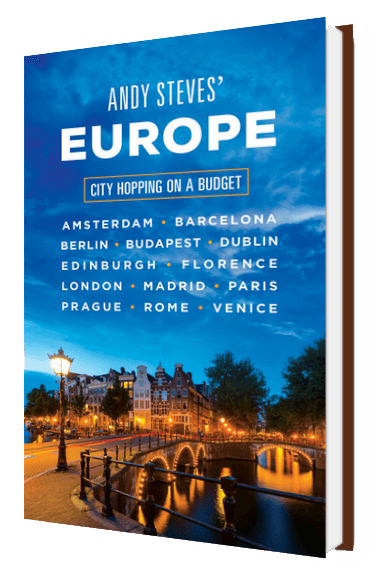 Pick a city and go! All new budget guidebook from Andy Steves, Founder and Chief Backpacker of WSA.