Blog
"He who travels has stories to tell." – Corcoran's Sacre Cœur, Paris, France
I absolutely loved Paris. Let's just say that Mom and Dad would have trouble keeping me in the states if I spoke French. So be prepared for a long post…
I booked the trip through WSA Europe, and I'm so glad I did. There were 12 of us the first day and 16 the second, so we all got pretty close. We actually almost visited 3 of the kids we met who are studying in Perugia, Italy the next weekend weekend because there is a chocolate festival there, but we didn't get around to it. However, one did come stay with me when they visited Rome! I have heard similar things with other people who went to Paris different weekends- the people we have all met through WSA have been fantastic.
Upon beginning the program Friday morning, we first went to Sacre Cœur, a church that is on top of a hill that has a great view of Paris. It was such a hike up the stairs! It was foggy, but it would have been a nice view. It was built at a time where the town around it was huge for partying, and it was built to remind people to behave, pretty much. Ironically, we went to a bar on top of that hill every night.
We then went on to see Moulin Rouge, but only the facade. We toured around Paris a lot that day, seeing little things here and there, like the Jewish/Gay neighborhood (where we got the "world's best falafel") and the location of the (former) barbershop that inspired Sweeney Todd.
Notre Dame was next, where we also went to mass on Sunday, but didn't go up to the top (we didn't know we could), but the architecture was amazing. The gargoils are not only a way to "scare off evil spirits" (an element of gothic architecture because of the dark time it was associated with), but was also a draining system. Water actually flows out of their mouth when it rains.
On the way back, we crossed over one of the 3 "lock bridges." Lovers put locks all over the bridge, because they cannot be removed [easily]. There's thousands. It's really cool.
We then went to the Pantheon, which houses the tombs of many famous French men (and Madame Curie). We didn't go in, but men such as Rousseau, Victor Hugo, Voltare, Marat, and Monnet are buried there.
At 5, we skipped the line for the Eiffel Tower and got to go up to the 2nd floor. By then, it was sunny and clear- but definitely windy up that high! Our guide, Kevi, pointed out several landmarks: Sacre Cœur, the Arch of Triumph, the building where Napoleon is buried, Notre Dame, the "Statue of Liberty" that America gave France as a "thank you," and a few other buildings. It was a great time to go, because the sun was still up, but it was setting.
We then went to dinner with a pretty set prefixed menu (we had a few options for the main course) with the deal we were getting. We all went to dinner with people from the program, even though it was optional. We got to try escargot, and we had bread with melted goat cheese over it, duck with mashed potatoes (delicious- tasted like chicken but fell right off the bone), and chocolate cake.
After dinner we wrapped up the day with the tour. We walked back past the Eiffel Tower, now lit up, and it was amazing. One thing I really appreciated about it was that it was dimly lit. Staring at it, much unlike a skyscraper, didn't hurt your eyes. It wasn't fluorescent lighting. It had a nice ambience about it. As we started walking towards, it started sparkling. Lights were flashing like a bunch of photos were being taken in a dark arena. Apparently it does so every hour (or half hour?), and it's been doing that since the year 2000.
The next morning we woke up in our awesome hostel booked through WSA, took advantage of the free hostel breakfast, and ate with our new friends from the day before. We met our tour guide there. He had a pedometer on his phone, and told us that we had walked about 13 miles the previous day- and that didn't include the wandering that we did after the tour… So figure 15 miles of walking in one day. Needless to say I was already exhausted by Saturday. But I am a college student and I run on empty like it's my job.
We then headed towards the Louvre. We only were able to spend about 2 hours here, but we did get to see a lot.. Obviously, including Mona. You could spend days in there. We also saw some Jacques Louis David, which was cool because I did a paper on him my sophomore year, and we saw Napoleon III's apartment. I'm not sure if it was originally located in the Louvre or if it was just recreated there with his stuff, but either way. The Louvre used to be a palace before it was a museum, and before Versailles. It was massive. We also saw the Ancient Egypt exhibit. And a mummy.
From there we went to the Arch of Triumph again, but only spent a few minutes there before having a few hours of free time, which, of course, we spent wanting to shop and eat. France's food is just so good. So we went to a place that our guide suggested, stopped and got some macaroons on the way, and got some grub. Of course, our whole group ended up at the same place to eat again.
We met back at the hostel at 5:30 to head towards our bike tour. This may have been my favorite part of the trip, just because it's so different than anything I have done and/or would have done on my own. Our guide was from New York, and he was really cool. We went several places, and his accounts were fun to listen to. He would point out buildings and explain the history, but tell it like, "So Napoleon was like, 'Hey guys, I'm going to take over this now, and the French were like 'Okay, but that's not cool.' So they excommunicated him." He also told us how in the building with the gold dome where Napoleon is buried, Napoleon's tomb is located down from the viewer, so rumor has it that when you look down at the tomb, it's like you're bowing down to him. Now when Hitler came to visit Paris, this building was noted to be his favorite part, as Napoleon was one of his idols. However, he had someone put in mirrors before looking at the tomb, so he could see it without bowing down to him. We learned some cool stuff along the tour. We then rode on to a bridge that had the Eiffel Tower in the distance, and it was located right next to the tunnel where Princess Diana was killed (I didn't even know she was killed in Paris till that second). We saw a statue/memorial for her, and rode on. We then parked our bikes, and boarded a boat for a night river cruise, which was also awesome. We passed several people having picnics/drinks alongside the river, which was cool to see, just because life seems so much simpler in Paris. We passed Notre Dame, some lock bridges, the Eiffel Tower, and some other historically significant places. There was a voice recording that played when we passed things, but that was boring, so we listened to our guide when we would pass something interesting. He also provided us all with a few cups of wine and an Eiffel Tower keychain. We docked and rode back, stopping at the Eiffel Tower and learning a few more things. It was originally built for the World's Fair, and was also originally supposed to be temporary. People hated that it was there- the French don't like skyscrapers. So houses that had a view of it were worth less, because it blocked their view of Paris. Could you imagine? Also, there was a man who invented some type of winged suit and wanted to prove that it could work, so he told the press to come and watch him jump off in his suit. You can imagine what happened next (spoiler alert: the suit didn't work as well as he thought it would).
On Sunday, the tour was over, so wandered the city with intents to shop, but everything is closed on Sundays. So we just saw cool things instead. In Rome, it is currently 77 degrees, so it's not quite "fall" here. It was amazing to see everyone enjoying the outdoors and colored leaves around Paris. It's fall there, and their parks are beautiful. Since everything is closed on Sundays, families just head to parks or just walk around, and again, I appreciated the simpleness of that. There was just a certain charm that Paris had. People would be roller blading or biking to get around, and people stopped and spent time with their entire family outside. It was cute. I loved it. And I didn't really witness the French-Hate-Americans stereotype.
It was nice to experience fall with the leaves and everything. It wasn't too cold (certainly colder than Rome), but it was nice. Paris was so different than cities like Rome and New York- I haven't seen so many [cute] children running around in a really long time! The pace of life seemed a little slower, which was nice for such a cute, simple city. I think I also enjoyed this trip so much because of the tour group I was with; they really did a great job and we got to see everything. The metro was easy to use, but it was nice that we had someone else navigating for us, plus he was cool.
So that's basically my weekend in Paris. Everything there was just perfect for us. I loved it!
-- Lauren McNaulty, WSA Intern Fall 2013, CEA Rome, Italy
Happy Backpackers

I traveled to Prague with my friends on a weekend trip, and going there I knew absolutely nothing about the city. Signing up for WSA was the best decision ever, because not only did I learn so much about Prague but I also had SO much fun! Our tour guide Adi planned out the whole weekend for...

Pauline Blatt, University of Notre Dame

~ Notre Dame Global Gateway, Rome, Summer Break 2016
Spots are limited!
We keep our groups small, so save your spot now! Check out our Tripadvisor, App Store & Facebook travel love below.
Multi-City Adventures:
Stay up to date with upcoming tours, deals and discounts through our Facebook page!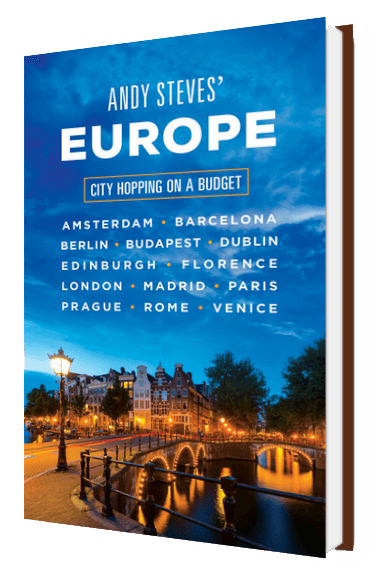 Pick a city and go! All new budget guidebook from Andy Steves, Founder and Chief Backpacker of WSA.