Blog
Fighting to Keep a Home
The day after landing in Ireland, I met up with Sean at his country house about an hour outside of Dublin. That was an experience. As he welcomed me inside he said "Be careful, this place isn't built to common human elevation." It wasn't. He had built it on his father's property ten years ago as a project and learning experience. The ceilings were built to his stature and weren't any taller than 6'4". That being said, I've never been in a cozier place. It was heated with a peat stove, and the house came with Mary, his mother, who was a classic pint-size grandmother. She peered out from her bright Irish eyes set deep in her weathered face. She was wearing a white-and-pink jumpsuit and sported it well for a 75-year-old. She carried herself like a teenager in the way she walked and interacted with the world around her. She never spoke above a whisper, and with her accent and the random subjects she discussed, I understood about maybe half of what she said. Her astounding hearing was matched by Sean's who would laugh at what sounded like mumbles to me. Her relationship with Sean was more like a beautiful friendship complete with teasing and bantering. Sean told me stories about how he would send her into the butcher's shop asking for hammers and nails.
Sean took me on a tour of the Wicklow Mountains, the region where his little house was with Mary. On this tour, I looked down on the Guinness' family's property with a lake where they imported white sand for their private beach. We continued up and over into the next valley where it was hailing and looked absolutely uninhabitable. Occasionally we would pull over and get out for a photo op. Asking Mary if she wanted to get out, she'd respond "I've seen these mountains my whole life" opting to stay inside the car. Each time, Sean would tell her, "Okay mom, keep quiet, and don't cause any trouble."
We passed a burnt-out shell of an old English fort once built to control the people in these IRA-stronghold valleys. The rebels waited and watched while the fort was built. The night after it was completed and the garrison was installed, they came down and locked all the soldiers inside and burnt it to the ground with a couple of hundred British inside. Count one for the Irish. At the entrance of each valley was a large, car-sized stone on end with the area's predominant families' names and dates. We passed one with 1774 chiseled into the rock. The history of the island is engrossing. Throughout the day, Mary explained her family history, traditional Irish songs, and hatred for organized tours, her soft voice broken up with frequent napping. She would fall asleep mid-sentence, and wake up ten minutes later and either finish the thought or switch to a completely different topic. Her rambling style is the reason I don't remember much of what she said. I was concentrating more on following her in the moment.
We stopped at a pub for a burger and a pint. Sean had come into this particular pub years back dressed as a priest. To this day, the man behind the bar still greets him as "Father." After our snack, Sean let me drive back down the country roads to his house. It messes with your head to drive on the left, shift with your left hand and look right first. But I made it without incident. Along the way we stopped at a small organic grocery store to pick up jelly for his mother. Inside, Sean saw some honey that was supposed to be especially good for you and asked why to the clerk. "Probably because it's organic" he responded. It's sad how you can find slices of Southern California across the globe these days.
The next day Sean and I went to Kilkenny. On the drive, he explained that the legal trouble he had referred to earlier had to do with his house. He had built it ignoring all rules and regulations. It was built to his standards and nobody else's. He didn't build it for money or an investment but for himself and his mother. Well, he was found out by the county council, and they were threatening to tear it down for numerous code violations and he was knee-deep in wading through the legal system. He had been talking to all his contacts in the area to try and get past the paperwork. The law in that part of Ireland states no one can build unless you were born there. Sean wasn't but built anyway on his own land. The other day, he had gone to the priest to explain his situation and see if he could do anything. The priest didn't like the council so immediately wrote up a page saying Sean was a native. From there, Sean may be able to keep the house. Sean laughed, "And I thought priests were good for nothing." Through my travel I've come to learn it's really about whom you know. With contacts you can get into, around, or past anything whether it be nightclubs or county ordinances.
At Kilkenny, we wandered through the small streets and Sean said he knew nothing about the place. So we went into a pub and had a few pints, grabbed some chicken curry and got back in the car to return to Dublin.
On Sunday morning, Sean took me on a short tour of Hoathe, where I bought a €15 hamburger at a pub for lunch. Hoathe is the peninsula you fly over when coming into the Dublin airport. It would have been simpler and cheaper to just drink a few pints. We had good timing, showing up on the morning of the monthly market. There, they had all sorts of honey, meats, vegetables, and fresh fruits. They also had a creperie van there with "Probably the best crepes you've ever tasted" painted in bold letters across the top. Well, we waited in the line, and once we got to the front, they had run out of cheese and chicken. I had wanted a savory crepe for lunch, obviously, but they were missing half the ingredients I wanted. I swear, that region of Ireland was having a dairy shortage that day--the hamburger stand next door was out as well. That's when we tried to find some cheap (but not pub) grub. The next morning I caught my flight back to Rome in time for class that afternoon.
Happy Backpackers

I went to Rome with a few of my friends. Before we got there, our tour guide, Rhianne, sent us plenty of information regarding how to arrive at the hostel, and what our Itinerary would be like. She also made it a point to meet up with people the night before if their flight got in early so students would have something to do. Having a tour guide that lived in the city was amazing. It made me not have to stress about getting lost, and provided many opportunities to eat at the best restaurants, and, most importantly, the best Gelato places. By the end of the tour, I was good friends with each of the 14 members of the tour group, including our tour guide. I definitely recommend taking a tour through WSA because the guides make you feel like they actually care about each person on the trip. I knew that I could just relax, and enjoy my trip.

Kyle Cook, Lebanon Valley College

~ Kingston University, London, Fall 2015
Spots are limited!
We keep our groups small, so save your spot now! Check out our Tripadvisor, App Store & Facebook travel love below.
Multi-City Adventures:
Stay up to date with upcoming tours, deals and discounts through our Facebook page!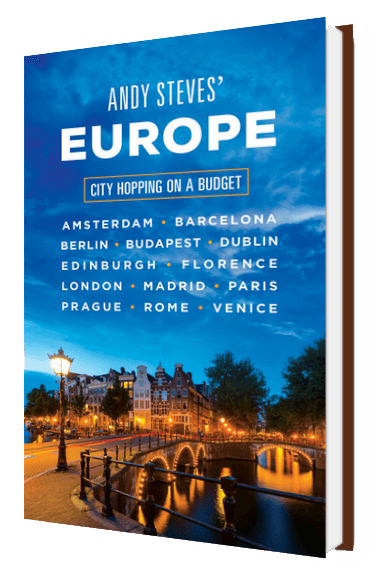 Pick a city and go! All new budget guidebook from Andy Steves, Founder and Chief Backpacker of WSA.