Blog
Departing Dublin
Posted by Intern in on November 3, 2013.
Dublin, Ireland, has now officially joined the list of cities around the world that I have absolutely loved. Granted, this list includes every city that I have been to, but nonetheless, these past 30 hours or so in the Irish big city has shown me that all cities aren't quite the same, but can be just as enjoyable of an experience.
I've read somewhere that Dublin could be compared to a future spouse. Personality is the trait that always comes at the top of the list and is usually the factor that puts a person over into the category of marriage potential. Dublin may not be a city that blows you away with natural beauty and scenery (unlike its rural, country neighbors). What it may lack on the exterior, it makes up for on the interior (where it arguably matters more). Dublin has a unique personality and charm that gives it a character that is both addictive and comfortable to walk around in and experience for a day or more.
The thing with the Irish culture is that it is not so much a distinct set of features and qualities, compared to other countries. This country has been ruled by many countries and has been influenced by many more that it tends to have more of an assimilated culture. This year, there is a promotional campaign called "The Gathering", designating 2013 as a year to celebrate throughout the year and relish in what it means to be Irish. It's appropriate, since there are many examples of Irish culture that are more or less shared. It's not necessarily taught or theorized, but the act of taking liked aspects of many influences and assimilating it into their lifestyles has created the authentic Irish culture that we all know and appreciate.
On Thursday night, our group went on a Traditional Irish Music Pub Crawl, going to different pubs and experiencing some authentic Irish music in a fun, lively--as well as educational--atmosphere. It's easy to appreciate true Irish Celtic music...the fiddles, the guitars, the banjos, the drums, the recorders, the music belting out stories of the past and/or from the heart. You can tell it has a meaning and it has a purpose. It also has a deep history, having been passed down from generation to generation. The music that is so masterfully played around pubs and street corners in Ireland isn't necessarily taught in terms of theory or beat count. Rather, it is learned from familial relatives, passing the act of playing from the heart on to younger generations. A lot of the time, the music made is a result of fiddling around (no pun intended) with the music, letting it grab hold of your soul and taking you for a ride over the green pastures, the concrete blocks of the old city, the rough-and-tumble communities, and the familiar atmospheres of spending time with loved ones in a cozy atmosphere. Trust me...it really does grab a hold of you; ask the broken glass that fell off the table as a result of me getting really into the beat of a drum mixed with gravity.
For a comparison, if you can imagine listening to some really great country or bluegrass music (which has Irish and Scottish roots) and you get that special, warm, comfortable feeling that makes you love it so much....that is what I'm talking about.
The pubs itself also offer a charm unique to Dublin. 'Traditional' Irish pubs are actually not what most people consider to be traditional...kegs for tables, tin or some kind of material on the wall, leprechauns everywhere, darkly-lit providing an intimate atmosphere, Guinness pouring out from every tap (*that one may be true). In a more accurate light, the more traditional pubs are actually extensions of a family house. They are indeed family-owned, the atmosphere is much more homey and the place is simple, decorated with family photos or other heirlooms. This kind of experience certainly makes it more enjoyable when it isn't quite so filled to the brim with loud, drunk, rowdy patrons. It adds that charm naturally, almost as if an Irish man or woman opened up his or her home to you and offered a nice pint or two. The Danes have hygge, the Irish have atmospheres like these.
On the island of Ireland, history is an important indicator to gauge a true sense of this country's culture. The Irish people, both northern and southern, take their family's history to heart, using this as a way to communicate their culture across international boundaries. You can see it in the music, where they honor family tales with song, passing the ability to play instruments down from generation to generation. You can see it in their religion, which serves as a strong identifier on both sides over the years has been a key theme in the ongoing conflicts that loomed large over reunifying or separating the island. History can also be seen in the daily life of people in both Dublin and Belfast. It may not be as appealing as other cities in Western Europe, but the mix of modern and historic, new and old, traditional and contemporary, gives Ireland a charm unique to anywhere else in Europe. The two are intertwined perfectly here and, while the island may still be going through some last-minute growing pains in relation to the now historic conflict of decades past, there is a refreshing air of hope, of moving on with life, of peace and calmness and serenity. The Irish aren't as worried anymore about Protestants vs. Catholics, about a Free Northern Ireland or a nationalized Ireland, but rather about the lack of jobs for some of its population, or about how the football or rugby or Gaelic football teams are doing in their respective leagues. Times have been tougher, but this nation has had plenty of moments where they've had to bounce back and stand strong.
British conquest, potato famines, paramilitary groups, a collapsing economy....whatever the issue at hand may be, it certainly doesn't show in the eyes of a traveler to this country. The Irish are tough, gritty, determined people, full of that charming spunk that attracts so many people to Ireland and dreams of frolicking in the lush, green fields with a pint of whatever is on tap at the many homey, neighborhood-friendly pubs. Personality rules in Dublin and this city becomes all the more vibrant because of it. It beckons feelings of nostalgia, honestly. You dream of what Ireland would be like, images flowing through your head, yet when arriving here, there is a strong feeling of awe, mostly due to realizing that a place like Dublin (or Belfast) beat out whatever expectations one may have. Words are hard to describe it...you'll just have to come here and experience it yourself.
-- Robby Veronesi, WSA Intern Fall 2013, DIS, Denmark
Happy Backpackers

The most fun, exciting, educational, and craziest weekend I had during my semester abroad. You definitely get the maximum bang for your buck with WSA. WSA provided me with an unbelieveable weekend in Budapest. After hearing from my friends about their amazing experiences on WSA trips, I had to see what all the hype was about. I chose to take part in a WSA weekend in Budapest, and I loved every minute of it. The guide, Bogi, was the best! WSA is the perfect blend of an educational/tourist expereince while also allowing for sites off the beaten path as well as kickass nightlife. You won't regret a trip with WSA.

Cooper Cohen, University of Notre Dame

~ University of Notre Dame, London, Spring 2015
Spots are limited!
We keep our groups small, so save your spot now! Check out our Tripadvisor, App Store & Facebook travel love below.
Multi-City Adventures:
Stay up to date with upcoming tours, deals and discounts through our Facebook page!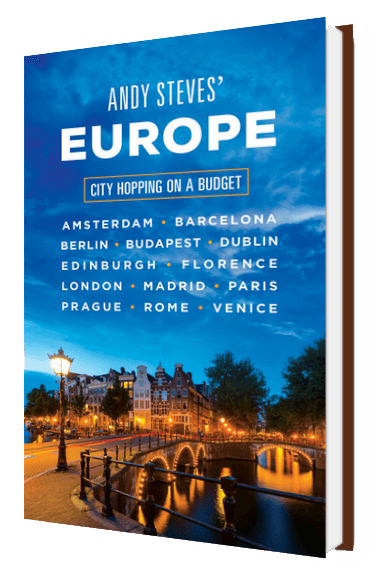 Pick a city and go! All new budget guidebook from Andy Steves, Founder and Chief Backpacker of WSA.