Blog
Central St. Germain's School of Design
I capped this year's travels with another study program--this time, in London. Throughout last fall I applied for an internship to over 30 design firms in Seattle, Portland, Omaha, Chicago, Dublin, Milan, Rome, Naples, Stockholm, and Paris. Nothing worked out. I didn't get a single positive response. So I decided instead of sitting on my hands design-wise, I would do some summer school and found a program that consisted of two weeks in London and then two more in Milan with a five-day break in-between for independent travel. This sounded like a perfect combination of international design experiences and more practice on my Italian.
Over the past several years, I've avoided England in my independent travels based on the prohibitive cost of everything there. Everything from a sandwich and a coffee to a stay at a hostel seems to cost about double than it does anywhere else. I definitely skimped on food for the day, making sure to always eat the included breakfast and dinner at my hostel, edible but not quite delicious. At breakfast, there were always vegetarian sausages made by people who seem determined to make it just as unhealthy as its meaty counterpart.
My first day, I poked around the complex to check out the "bar" and workout room. There was a girl on the stationary bike in the tiny gym room and we struck up a short conversation. I would come to learn she was one of those girls who never, ever, shuts her mouth. No matter what. Period.
My days at school flew by. The unit involved the redesigning of a disposable camera. We sought to take the stigma away from disposable cameras through a restyling which would bring a comeback of these single-use devices. Our teaching duo consisted of two young guys heavily involved in the trends-and-design lifestyle of London. They were on top of everything having to do with design, reminding me I still have a long way to go. In my class, there was a Greek girl, a Turkish girl, a Korean girl and a Brazilian guy. None of my classmates spoke English well. In fact, all but one struggled with basic responses to questions, which put me in the awkward position of having to answer all the teacher's questions, something I'm sure to usually stay away from.
That Wednesday night, after going back out to research a neighborhood for my project, I had an interesting drunken experience. Except I was mostly sober. Me and the girl who wouldn't shut her mouth were outside waiting for the bus and trying to eat a couple giant kebabs. We were approached by two punk, pop-looking British guys in tight jeans and layered shirts. One carried a tray and on that tray…a batch of homemade cupcakes. The one with the tray came up to us and stood there without saying a word. Assume it was to see if we were interested in buying a cupcake. His friend reached around him to grab one of my French fries. Then he grabbed my fork, filled it up with kebab goodness, and ate it—right in front of me. He said, "That's rancid." I grabbed one of his cupcakes. And with that, the two continued down the road, his friend never saying a word. I hoped the cupcake wasn't spiked as I ate it and I don't think it was. Looking back, where else would something like that happen except at one o'clock in the morning in a trendy, underground sub-neighborhood of the London Eastside? My friend and I just looked at each other to make sure that really just happened.
On Thursday afternoon, I ate a sandwich, and went home to work out, eat dinner, and take a nap. It was 9:00 p.m. when I woke up, got dressed, and headed out. I felt like heading downtown. Until now, I haven't really had much of a sense of the city of London, always busy in class and with homework. I took the metro to Oxford Circus and wandered down the street until I found Selfridges and decided to go in. While walking through the multitude of designer fashions I got to thinking. Why do we pay hundreds of dollars for a T-shirt or thousands of dollars for a suit? We think it's cool…that it's fashionable. And it's never us that decide fashions or trends, but rather the high-design society, and there are designer shops that never have in-store sales because their customers, envied by all, don't ever want to pay less than they can for a pair of pants. The cheaper pairs are carted off to their lower-end branch. To me, it feels like the top of society is supported by the rest of the world trying to someday achieve this exuberant excessiveness. But the thing is, everyone will always buy into this system as long as it's around. But I guess that's our material world for you.
I kept wandering and hung out in Picadilly Circus for a bit, what seemed to me the Times Square of Britain. On my way back, I stumbled across a classy cigar lounge where I splurged andt got a £13 (that's $20) Partagas No. 4 D. I decided to smoke-in and I chilled with two Londoners and an Italian. The conversation swirled around the Wimbledon tennis tournament, design and my strange combination of majors, and Cuba's main export.
On Saturday, I went to Vinopolis, London's wine-and-liquor-tasting wonderland. I bought the "Spirit of Vinopolis" ticket, which included six wine, two premium wine, two beer, one gin, two absinth, and two whiskey tastings. By the last station, intelligent speech was a struggle. My friend and I ate at next door at Wagamama (a noodle restaurant chain) and then made our way over to the London Absolut Ice Bar. I had been in ice bars before both in Rome and in Stockholm the previous summer. They are always an experience where everything from the chair you sit on to the glass you're sipping out of is made of ice. I wouldn't call it a cheap place though.
On Wednesday, my dad came down from researching in Scotland and we met up for dinner and a walk around downtown. The weather left much to be desired, and we went to an appropriately underground Belgian restaurant where we ate prawns, mussels, and duck. Again, anytime you meet up with parents, you're in for a nice break from your budget. It was a short and sweet time together as I took off for Dublin the next afternoon.
The only regret of my time in London (and I'm guessing the time you'll read about next in Milan) is my lack of time for sightseeing in this world-class city. Each day I would wake up early, eat a quick breakfast, hop on the public transit to school, spend all day there, and return back to my place after all the museums had closed. The evenings involved me eating dinner, maybe working out, and working on my homework, with an occasional pint or drink mixed in.
Happy Backpackers

Great mix between learning and leisure. Our tour guide, Lauren, was extremely knowledgable and also very well connected. The weekend was a blast!

Dan McGlinn, University of Notre Dame

~ Notre Dame Global Gateway, Rome, Summer Break 2016
Spots are limited!
We keep our groups small, so save your spot now! Check out our Tripadvisor, App Store & Facebook travel love below.
Multi-City Adventures:
Stay up to date with upcoming tours, deals and discounts through our Facebook page!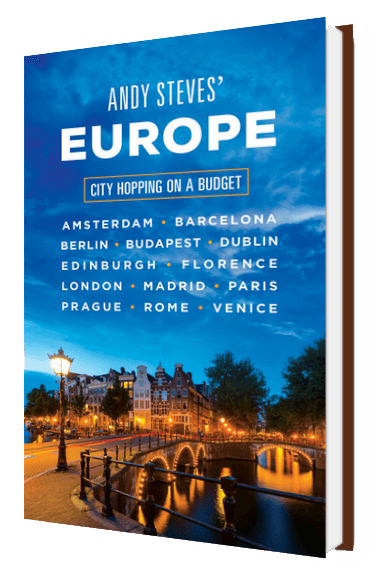 Pick a city and go! All new budget guidebook from Andy Steves, Founder and Chief Backpacker of WSA.