Blog
Bunratty Castle, Cliffs of Moher, and Other Exciting Places
by Hannah Arnold, Limerick Intern
Spontaneous, erratic, and wonderful. There is no other way to describe how my first weekend in Ireland was.
It all started on Friday afternoon, when one of my housemates and I decided to go visit our first castle. We found that the Bunratty Castle & Folk Park was pretty close and, according to Google, looked fairly simple to get to via public transportation. We did not however account for the Cultural Festival happening in downtown Limerick where a giant Granny puppet would be parading the streets (more on that later). So, instead of an easy 20 minute bus ride and a short walk to arrive at Bunratty that Saturday morning, we learned the importance of allotting for extra time and learning to be calm in arising situations.
We left the apartment at 9:20am, and took a bus into the City Centre. Once there, we came to find that the bus to Bunratty had been moved to a different stop due to the festival. After looking up the different stop, it was 3.4km away and the next bus was scheduled to leave from that stop in about 35-40mins. My roommate and I decided to walk it since the weather was great and at this point, we just wanted to have fun on our way to the castle and not get frustrated because our plan wasn't working out like we initially thought it would. As we were approaching the stop, we saw the bus we needed slowly begin to drive away; we were so close! No harm, we'd just wait for the next one. However, after sitting at the stop for what felt like eons and not having seen any busses pass us, a car pulled up and a nice older Irishman explained to us that because of the festival, the busses out of town stopped running at 11am via the route we wanted and he offered to give us lift to a bus stop nearby where he had seen busses running earlier. Now, I wouldn't normally recommend hoping into a car with a stranger, it's probably last thing on my list to do in the US. But come on; this 70-something friendly Irishman named Colm? We'll take our chances. He was so nice; he drove us up the road and talked to us about his wife and children. After we said goodbye to Colm, we waited another five minutes until we decided to throw in the towel and just call a cab. We were a mere seven minute drive away at this point, so we called our cab and it was a short ride to our destination. Finally, after a total of 2 hours and 40 minutes, we arrived at Bunratty Castle! In a matter of one morning, we experienced the Irish bus system, a nice long walk through and out of Limerick, a form of hitch-hiking, and an Irish cabby. I'd say it was a pretty educational start to our day.
Our past frustrations from the morning were quickly forgotten when we walked into the entrance. If you haven't been, Bunratty Castle and Folk Park is just brilliant. It's a living reconstruction of the homes and environments of Ireland over a century ago. There are farmhouses, streets, and shops all recreated and furnished to appear as they would at the time. The people who work there have a hand in making the place feel so real. They dress up in period clothing and go about their day as they would at the time; some tend the land, or feed the animals, or even bake scones and bread that visitors are can try. I've always been interested in history, so an exhibit as such that shows the living history was truly amazing. The castle was also furnished as it would have been when the O'Briens lived there during the 16th and 17th centuries. I would suggest this as a stop for anyone who loves a good castle, and it's great on the budget as well. Admission is normally €12 for adults, but with a valid student ID card, it's €10.50. Inside the folk park, there are also places to eat, but we settled on a pub right outside the castle walls called Durty Nelly's. It was reasonably priced and a great classic Irish pub atmosphere.
Upon leaving the castle grounds, we found a bus going back into the city without trouble. When we got to the city, the bus driver directed us to one of the only bus stops still running during the festival. While walking to the stop, we noticed the massive amount of people just standing in the roads and sidewalks awaiting the giant Granny puppet. We decided to see what the big deal with this puppet was, so we joined the crowds. When the Granny puppet turned the corner, it gave me a fright because I didn't realize how big this puppet really was. It towered over everyone, and the puppeteers controlled every aspect quite well. There were people swinging from ropes to pull the legs up and down, others to move the mouth, eyes, and brows, and more moving the arms. It was impressive, but to this day, I'm still not sure how Limerick city got picked to host a large Granny parading the streets.

We had bought tickets through the school for tour de County Clare, so the next morning, one of my housemates and I boarded the bus together at 9am this morning, off to do some worthwhile, tourist-y sightseeing. The first stop was a cute little city, home to an attractive beach, called Lahinch Beach, where some of the best surfing in Ireland - in the world, even - takes places. I couldn't resist being just a little bit hipster-y, and taking a picture of my scone and mocha coffee on a ledge overlooking the ocean.
Yup, definitely worth it.
Next stop on our tour; the famous Cliffs of Moher! We spent a solid 2 hours navigating the trail along the edge, at some points feeling as though we were hanging on for dear life. The views, the ocean, the cliffs - all phenomenal. I don't even know how to describe it, and this picture doesn't do it justice at all. This is a must for anyone visiting southern Ireland. There's so much to explore here and I could have easily spent more time here. Every which way you look gives a different view and each one of them better than the last. We were fortunate to have visited on a day with great visibility.
After grabbing some lunch at this quaint little shop next to the Cliffs of Moher gift shop, we were off to destination #3, the Burren. The Burren is home to many rare flowers and plants - in fact, it's illegal to pick any of them - and the land just seems to stretch on and on forever. It looked just like the top of a mountain, except our view down was the Ocean, and we were in the forever-winding countryside.
Our last major stop on the trip out to County Clare was an ancient tomb. When I say ancient, I mean dating back before the pyramids and the stonehenge - like, 3000BC. The site was a burial ground for at least 33 bodies, and remains standing today as one of the oldest structures in existence. Amazing.
This tour that the school promoted was great way for me to see many parts of southern Ireland, and for a pretty good price – €25. I plan on attending more of these trips because they offer the convenience of including your admission and transportation for the given location(s). I would definitely recommend looking into local touring companies to see if they sponsor a trip to a location you were interested in visiting before you go booking it yourself, because you could save yourself some time and money when booking with them.
Happy Backpackers

Kevi was AWESOME! I would've been so incredibly lost without his guidance and knowledge of the city! I loved getting to see Paris with other students studying abroad, too(:

Jamie Jekel, Swansea University

~ Swansea University, Spring 2016
Spots are limited!
We keep our groups small, so save your spot now! Check out our Tripadvisor, App Store & Facebook travel love below.
Multi-City Adventures:
Stay up to date with upcoming tours, deals and discounts through our Facebook page!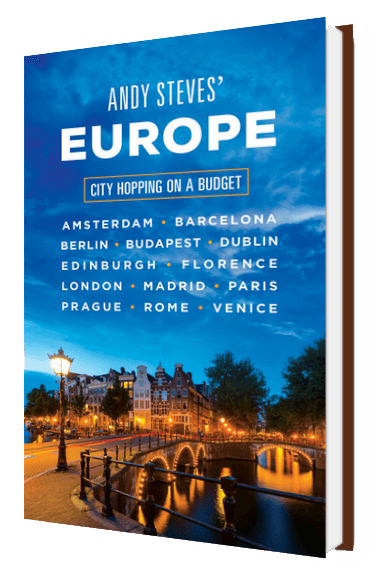 Pick a city and go! All new budget guidebook from Andy Steves, Founder and Chief Backpacker of WSA.