Blog
A Ride to Geraci
Saturday I woke up and cooked myself an extra egg. I had a feeling I was going to go on a long bike ride that day. I picked a town in the interior of the island about two and a half inches away from Cefalu. Well that town turned out to be 38 miles away with about 30 being uphill, but I'm a very goal-oriented person so if I tell myself I'm going somewhere, I have to get there. I made a point to stop in each town along the way to pick up something to eat or drink.
Out of Cefalu, I headed towards Messina for a couple miles until I took a right and headed up hill. The next town I hit was Castelbuono, where I grabbed a banana and a blood orange and ate them outside a café. There an old man recognized me from the day before and asked me where I was headed. I asked him where I should go and where the best roads were. He proceeded to tell me everything about the roads in the surrounding area. This was interesting because back in my freshman theology seminar I wrote a research paper about the Sicilian Mafia and how it has crossed paths with the Vatican over the years. In my research I learned that from childhood, Sicilians were taught never to give directions to strangers for fear that the stranger may be a hit man searching for his victim. In Sicily, revenge would extend all the way to the direction-giver and his family. I asked him about the town I had previously picked out and he said the roads were good so that's where I headed.
I continued on for another 15 miles to Geraci, where I had a cheese-and-spicy-salami panino. The interior of Sicily is absolutely stunning. Its majestic mountains and dramatic landscapes seem to say "Don't mess with me, I'll hurt you," reflecting the dark undertones of Sicilian culture. Continuing uphill, I rode past the first real-life shepherd I've ever seen in my life, with a cane and all dressed in wool. I've seen little eight-year-old ones at Christmas Mass every year, and I was probably even one once, but this was the first shepherd I've seen really doing his thing. A little later I saw huge chunks of dung and wondered if a goat could have done the job. On my way back I almost hit some cows hanging out in the middle of the road and then it made sense.
On long rides you have a lot of thinking time. Well, this time I got to thinking about how all these small hill towns that I was riding through got started. They're 20 miles away from anything else. Initially, I'm guessing all the towns in Sicily, and around the world in general tend to line the coast. Over time, they spread inwards and the founders of these towns would have had to carry all belongings on their backs and with mules. And today, nobody moves into these towns, which means everyone who lives there has family roots a long ways back, probably close to a thousand years. It's amazing to think about such continuous life, generation after generation in these small towns perched on the top of mountains: weddings and funerals, births and baptisms, schooling and working all there in these little towns, carried out in lifetime after lifetime. Along with that, each town, as close as six miles from the next, has a distinct dialect and people have to concentrate to understand another. It just goes to show how isolated these towns really have been throughout history.
Seven hours after I left, I made it back to Cefalu and struggled up the stairs with shaky knees to the apartment where I immediately put on some water to make pasta. It was a great day.
That night was Frank's 21st birthday party. Except it wasn't really much of a party. There were just six of us who went out to dinner, then only four wanted to go find the rumored discoteca that was only open on Saturdays. Again, one does not discuss the details of 21st birthdays, but Frank was having a good time. I decided to give him a unique gift. On the way over to the club, I gave him the gift of drunk driving. This is the only safe kind though: bumper cars. There was a small carnival park on the side of the road and I figured why not. It was a great time. We never made it to the disco. Instead, we just tucked Frank into bed and crashed ourselves.
On Sunday I went on a very short recovery ride and spent most of the afternoon cleaning up the apartment inside, which broke my heart because it was such a beautiful day. I packed up my bike and realized I had misplaced my train ticket to return back to Rome. In the end, it turned out to be nothing more than a headache and an extra €40. I said goodbye and thanks to Carlo and headed off to the station with my classmates that evening to catch my 7:30 train. It was a good spring break.
I thought I wasn't going to have anything more to say; just another night train and probably another awkward encounter with a middle-aged Italian. The train ride was relatively uneventful: I got my bike up on the baggage holders, we had some people peeking into our room, and I tried to fall asleep. I was having a hard time until about 2 or 3 in the morning, then the next thing I knew I was shaken awake by my friend. "Andy, we're here." But we weren't here. It was broad daylight and there was no train station around. My friend and I and another Italian all had overslept the Roma Termini stop, and they had moved the train to the outskirts of Rome to the train depository. So here we were, at 8:30 in the morning, pretty much stranded in the middle of nowhere. Why hadn't anybody woken us up? Where was the conductor? He hadn't had a problem waking us up while we were sleeping to check our tickets for the second time. But I guess he was too lazy to do the same when it really mattered. It wouldn't have been as much of a pain except I was still carrying around my bike in a box and really didn't feel like carting it the three miles back to the station.
Eventually, we found somebody to ask for directions to the exit, and we caught a tram heading in the right direction. While the man was telling us how to get there, another person came up, and both told us to keep an eye on our wallets. That was the first time ever I've had Italians tell me to watch out. A bit daunting, but in the end, nothing happened on the tram. Once we saw the red metro "M," we were home free. And that's where the story ends. It was a good spring break.
Happy Backpackers

I was very nervous signing up to go to Budapest with WSA because I was going solo, but it was the best weekend of my semester!!! Everyone in the group was super friendly and inclusive, we all had a great time together. WSA does an amazing job of keeping everything organized and we always...

Allison Johnson, University of Maryland

~ DIS Copenhagen, Spring 2016
Spots are limited!
We keep our groups small, so save your spot now! Check out our Tripadvisor, App Store & Facebook travel love below.
Multi-City Adventures:
Stay up to date with upcoming tours, deals and discounts through our Facebook page!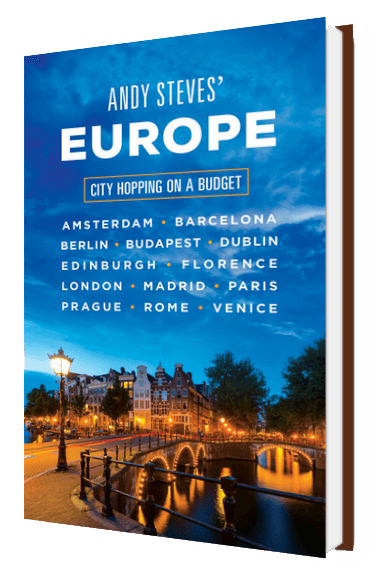 Pick a city and go! All new budget guidebook from Andy Steves, Founder and Chief Backpacker of WSA.