Team WSA
Get to Know WSA's Travel Jedis
Aside from being ridiculously knowledgable and fun, our professional local guides share a passion for showing off their hometown and providing insider perspective to young travelers. Meet the power squad behind WSA.
Andy Steves: Chief Backpacker
Hailing from Seattle, but traveling every year of his life to Europe, Andy felt right at home when he got the chance to study abroad in Rome in 2008. When his friends started coming with him on every trip he organized, he realized there was an opportunity for fun, culturally-focused, budget travel for students abroad in Europe. He wrapped up his undergrad at Notre Dame and launched WSA immediately after in 2010. Since then he's built up a kick-ass team of travel jedis, of whom he's immensely proud to have pushing and developing the WSA mission further: to open students' eyes to the beautiful experiences and cities that Europe has to offer from a local's perspective.
Hometown: Seattle, WA
Alma Mater: University of Notre Dame
Study Abroad: Rome, Spring 2008
Favorite Gelato: Caffe & Pistacchio
Hobbies: Cycling, Sailing & Extreme Sledding
Favorite Travel Destination: Thailand, Rio de Janeiro, Stockholm
Arthur Bijholt: Amsterdam Local Guide
Hi there! I'm Arthur and I'll be your guide through the amazing city of Amsterdam! Known all over the world for its friendly and lively atmosphere, visiting Amsterdam is an experience you will never forget and I love the itinerary that our Team has put together for you.
As a former history student, I'll take you to all the best sights of one the best preserved historical cities in the world, whilst taking you trough all the ins and outs of Dutch culture. My 9 to 5 is running one of the best comedy clubs in the entertainment district of Leidseplein, where I'll show you the "other" Amsterdam til deep in the night. As a proud native Dutchie, you'll find me riding my bike all through town, if I'm not driving my boat through the canals.
It would be my pleasure to show you around the freest city in the world, afterwards you'll be saying "I Amsterdam".
Dive into Amsterdam with Arthur.
Hometown: Amsterdam
Interests: Surfing, snowboarding, comedy, music
Day Job: Runs local comedy club
Kevi Donat: Paris Local Guide
Salut tout le monde, Kevi here!
I grew up in Paris and in Martinique and after studying political sciences in Brittany and a few internships and trips around the world (New York, Copenhagen, Barcelona, Hong Kong, Taiwan...). I graduated in Public Health Management and was supposed to become a director of nursing homes. Obviously not for me. So I decided to aim in another direction : The greatest city in the World (yeah, I said it !) was calling me again and I became a city guide.
Different lifestyle = more fun in my life! I consider myself as a hardcore Left Bank activist and after our tour, the Latin Quarter of Paris won't have any more secrets for you… Paris is a beautiful city but can be sometimes hard to handle. It is my job (and pleasure) to take you to all the cool places real, young parisians go.
Join me for a weekend in Paris and you will be a Parisian faster than you know!
Check out our Paris trip here
Hometown: Paris
Alma Mater: Institut d'Etudes Politiques de Renne, Dauphine University
Dream Travel Destination: Tanzania, Brazil, Malaysia
Interests: I'm a huge history geek!
Dawid Kadziolka: Krakow Local Guide
Hey! My name is Dawid, and I am excited to show you around one of the most beautiful European cities, Krakow!
I grew up in a small, beautiful mountain town called Limanowa, located just next to Krakow. I love mountains, hiking and nature. However, since I was a child, Krakow has always been a special place for me. I loved to walk and discover new things in town with my parents. For me, this is the place where I have the greatest memories! I decided to move into Krakow for high school because the historical significance of the city inspired me. Last year, I graduated with a Tourism and Leisure degree from the Krakowian University of Physical Education. While I was studying, I made time to visit many European cities, as well as participated in an exchange program to Great Britian. Through these experiences, I realized how lucky I was to be from Krakow and live in such a special city. I am proud of this heritage and excited to show you around my favorite places!
Krakow is an incredible city with incredible history, where even the night life is unique and something you will never forget. Come to see Krakow, and fall in love with this place with me!
Check out Dawid's trip here
Hometown: Limanowa
Alma Mater: University of Krakow
Dream Travel Destination: Australia, New Zealand, Sicily
Languages: Polish, English, Russian & Italian
Hobbies: Hiking, Cycling, Traveling, Reading, Music & Trumpet
Play Video
Experience Budapest with Bogi!
Check out the Bogi came for WSA's local guide insider take on her favorite spots of her home town. Check out WSA's kick-ass Budapest trip here: http://www.wsaeurope.com/trips/budapest/
Bogi: Budapest Local Guide
I knew that I wanted to be a tour guide ever since 8th grade because I was inspired by my funny history teacher who was a guide herself. Actually, one of my favourite quotes is: "Travel often, getting lost will help you find yourself", and my job is to make sure you'll find whatever you're looking for in B-town! When abroad, I was lucky to have friends show me all the real cool, non-touristy stuff. I have found that so much more exciting, so have been doing the same in Budapest since 2007. I have accompanied groups on alternative walking tours, bike and bus tours as well as on the city's amphibious bus tours!
Check out Budapest Weekend with Bogi
Hometown: Budapest
Languages: Hungarian, English, German, Italian, Spanish
Hobbies: Singing, music concerts, badminton, swimming, traveling, journaling
Favorite Music: Boyz II Men & Mariah Carey
Fun fact:I worked as a receptionist in Italy, an entertainer in Spain, a reporter in Egypt and hope there's still more to come!
Play Video
Rhianne's Rome & Italy with WSA!
We're lucky to have Rhianne on WSA's roster of local guides. Rhianne heads up our Italian Extravaganza through Venice, Cinque Terre, Pisa, Florence and Rome. Check us out here! http://www.wsaeurope.com/trips/italy-1/
Rhianne Taylor: Rome & Italy Local Guide
Ciao ragazzi!!
My name is Rhianne and I will be your guide through Italy! Originally from England, I moved to Rome in 2011 because... well... it is the sexiest city in the world! With me you will have a very unique experience... Italy from a British perspective... and with a British accent!! I have experienced these cities as a tourist and as a student, so I understand exactly how you feel, and I aim to make this the best trip ever and help you make the most out of every second!
Some years ago I studied in Venice for 6 months, I worked in Florence for a summer, and now I live in Rome! So I am the perfect person to take you on an awesome adventure through Italy. I have a degree and masters in History of Art, and I am completely obsessed with Italian history, so not only will you have lots of fun, but you will also learn some amazing things!
When I'm not working for WSA, I'm huge groups of American high school students around Europe, or leading families on guided tours of Rome... and I love it!!! There is nothing more exciting than showing people how incredible my new adopted country is. So come and visit us in Italy, and I will make you fall in love with this country just like did!
Hometown: Birmingham, England
University: History of Art - University of Warwick, UK
Hobbies: Photography, Drawing, Singing, Traveling, Being a history nerd!
Travel Bucket List: The USA!!!!!!!
Adi Hadzic: Prague Local Guide
My name is Adi, and I'm so excited to join the WSA this year! I was born in Sarajevo, Bosnia and spent my childhood in London, after which my parents decided to go back to Bosnia. I lived in Sarajevo for 15 years before moving to Prague in 2011 and attend Anglo-American University. Im currently enrolled in the masters program studying International Market Law.
I started working as s tour guide purely out of fun, as I had a lot of friends coming to visit, realized that showing people how lucky I am to be living in this awesome city was something i enjoyed. Furthermore, exploring the narrow alleys and back streets of Prague made me realize there are so many hidden treasurers here that true globetrotters would be thrilled to see.
I've been tour guiding over two years now, and can surely tell you that Prague has unveiled most of its secrets to me. If you are up for having a walk across one of the oldest bridges in Europe, watching the show of the oldest working astronomical clock in the world, and tasting beer according to a 15-century-old recipe then don't think twice- come join me for an exciting weekend in Prague and see why this city beat London as the 2nd most-visited destination in the world in 2014!

Meet up with Adi in the heart of Europe.
Hometown: Sarajevo, Bosnia and Herzegovina
Alma Mater: Anglo-American University - Prague
Dream Travel Destination: Tokyo, Bangkok, Auckland/Wellington
Interests: Sports (mainly basketball and soccer), traveling the world (29 down, 170-ish to go!), BBQ'ing for friends
Alois Guinut: Paris Local Guide
Bonjour everyone! Hello tout le monde,

I am Aloïs, your Parisian guide. And as a true Parisian I... was not born here. I grew up on the Atlantic coast, but as far as I remember I was attracted by our French capital, moved to Paris when I was 20 and it has been super exciting here since. I love my city so much that I want you to have the chance to enjoy it as much as possible during our week-end together. So it is going to be about Paris' amazing history and grand architecture of course but also the food, the culture, the parties...
P.S. Girls, you're welcome to check out my blog, Dress Like a Parisian
Hometown : Paris
Alma mater : La Sorbonne, Institut Français de la Mode
Study abroad : Berlin, year 2008
Interests : movies, art, fashion, literature, acting, writing, swimming, cooking, eating, endless discussions...
Dream travel destination : Iceland, South America (I know it's big), Italy
Andrew Golden: Berlin & Central Europe Guide
Hello!! I'm Andrew, hailing from Philadelphia.
I brought a one-way ticket to Paris in 2008, and after years of working/traveling the globe, I somehow ended up in Berlin. I first visited this dynamic city in 2009, and knew someday I would call it home. After studying at the University of Wisconsin-Madison, I discovered my passions were traveling, drinking great beer, and discussing history (my major). Thus, Berlin is my Mecca. While working in Paris and Prague over the years, I've traveled Europe extensively, especially Central and Eastern Europe. Every time I revisit the Best of Central Europe cities I feel a renewed excitement and curiosity. When not leading tours in European summers, I'm usually backpacking around the globe. Next up: India and Nepal!!
Hometown: Philadelphia
University: UW - Madison
Hobbies: Travel (of course, road cycling, reading, cooking
Sabela Torres: Edinburgh Local Guide
Hello there! I'm Sabela, your local guide for Edinburgh. After growing up and studying in Madrid, I worked on TV and radio in Hungary before going back to school in Buenos Aires, where I did film script writing.
I never thought I'd become a tour guide. It came to me by chance, meeting people here and there that asked me to show groups around Budapest (where I lived for three years) and Madrid. It suddenly became a job that not only allowed me to share with people the stories that I love, but I also managed to move to Scotland where I've been living for the past three years. Therefore, resolving two life ambitions, being a storyteller and living in Scotland's beautiful capital, Edinburgh :)
Edinburgh is stunning, and has some of the best stories of any city I've ever been to. If you come visit us, I'll show you the old and new towns, the castle and palace, and the hidden corners of dark fairy tales that have inspired ideas for A Christmas Carol, Peter Pan, Game of thrones and Harry Potter. "
Hometown: Madrid
Studied: Media, Communication and Performing Arts
Michal Plíva: Prague Local Guide
Ahoj everyone! My name is Michal and I'm proud to claim myself 100% Praguer! Born and raised in Prague, I've seen my country's raise after the end of Soviet Union and I'm so proud that Prague is right now ranked in the top 5 cities to visit – worldwide! When I was a little boy, I loved history and everything medieval. My family took trips to countless castles across the Czech Republic and I was thrilled to get to know more about the famous rulers who lived inside those walls.
After school, I started in sales just to realize that this style of office life wasn't for me. I decided to follow my childhood passion – history! That's how I got into tour guiding. Along with my own tour company, I've teamed up with WSA to show students one of the most beautiful cities and my hometown. So come and join me to visit a dreamland – a place where beer is cheaper than water and where you can feel the medieval history breathing from every corner!
Hometown: Prague
Hobbies: history, photography, entrepreneurship, sports, traveling
William Mollers: Berlin & Central Europe Guide
Guten Tag! I'm William and it will be my pleasure to show you around Central Europe and Berlin.
Originally from Sydney in Australia, I moved to Germany in 2009 to study German Literature and history in Cologne, though I eventually ended up in Berlin as it is such an incredible city. It really has everything from a deep history, great nature, delicious food and much more!
I have been guiding for a number of years now and originally got into it because I loved the idea of combining travel with meeting people as a job. I think I have one of the best jobs in the world and hope to bring across that passion when we meet.
Lived in: Sydney, Cologne, Berlin
Favorite Gelato: salted caramel
Dream Destinations: Porto, Portugal; Nymboida, Australia
Carsen Silverblatt: Barcelona Tour Guide
Hola! I'm Carsen and I'll be your guide through the beautiful city of Barcelona. Originally a New Yorker, I moved to Amsterdam for university and have been living in Europe ever since. I spent many of my weekends exploring other cities and soon landed in Barcelona. I was immediately drawn to the city's chill vibe and creative atmosphere. When I came across an awesome internship opportunity here a few years later, I didn't have to think twice. 6 months quickly turned into 3 years and here I am!
Hometown: New York
Studied abroad in: Amsterdam
When not traveling, I: Work in documentary film
WSA Core Team
Karissa Meyers: Chief Operating Officer
After working in corporate America for 10 years, I decided I was ready for a change. So when I learned about WSA while in Amsterdam touring with our guide Arthur, I was hooked. I enjoy bringing some of the structure and strategic planning from past jobs to WSA, and my favorite part of this position is working with our student interns. I studied abroad in Milan, Italy and struggled to figure out how to travel in a meaningful and cheap way, so I absolutely love being part of a team that helps solve these problems for today's students!

Hometown: Saint Paul, MN
Hobbies: Photography and cooking
Favorite Destinations: Florence, Sofia, Iceland
Travel Bucket List: Israel
Happy Backpackers

I definitely have WSA to thank for my exceptional experience in Amsterdam. One would think 4 days isn't enough to tour a city but WSA facilitated an optimum weekend full of sightseeing and fun. Amsterdam may have a notorious reputation for its lax drug and sex culture but there's so much more to the city. Luckily, our tour guide, Arthur, native to the Netherlands, steered us away from the tourist traps and showed us around his beloved city, highlighting all of its gems. I'd definitely like to try other WSA trips in the future. It's hassle free traveling with an awesome itinerary - nice that the tour guides are flexible with the schedule and willing to cater the itinerary to the group's interest! Highly recommend WSA to any student with only a weekend to see a city.


Lauren Wallender, Elon University

~ Fall 2014
Spots are limited!
We keep our groups small, so save your spot now! Check out our Tripadvisor, App Store & Facebook travel love below.
Multi-City Adventures:
Stay up to date with upcoming tours, deals and discounts through our Facebook page!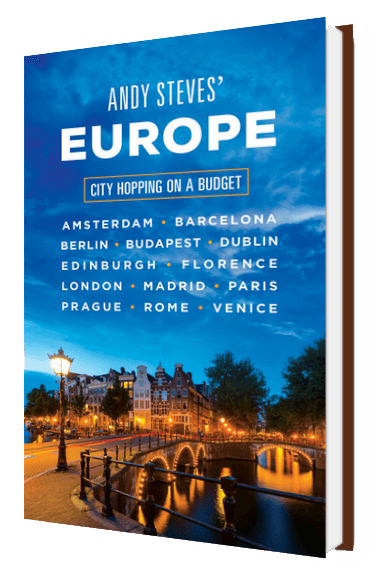 Pick a city and go! All new budget guidebook from Andy Steves, Founder and Chief Backpacker of WSA.