Blog
What I Miss Most about Studying Abroad
Posted by admin in on June 30, 2016.
By Michaela Meyer, WSA Intern

I was never homesick when I was in London. I was having too much fun to be homesick. Sure, I missed things – eight months is a long time to be away from your family, your friends, your pets, your favorite restaurants. But I never got that deep longing ache typically associated with homesickness. Even at Christmas, my first ever away from home, all I felt was a certain lack of magic – the sense that Christmas was just another day, no better or worse than any other (a feeling that I had been getting incrementally more and more every year since I stopped believing in Santa Claus). Sum it all up to the technological age which made it possible to keep in touch, and my own independent spirit.

That's why I was surprised when, sitting at home on a beautiful day two months after returning from abroad, I felt a pang of homesickness. It was an unusually hot and sunny day and I had my music blasting when the song Escape (better known as the Pina Colada song) came on. Suddenly I was flooded with memories: the scenic beach at Port de Sóller in Mallorca, an empty restaurant (the only one we could find open during siesta hours), and a table full of some of my closest friends singing "If you like Pina Coladas, or getting caught in the rain" at the top of our lungs, in honor of the rain we had just spent an hour walking through and the pina colada I had ordered with my meal. I felt a desperate longing to go back to that place and that moment in time. We were only in Mallorca for five days, and Sóller was just a day trip – it was by no means my home. So why the aching feeling in my gut? I came to realize that I wasn't homesick for Mallorca, I wasn't even homesick for the giant, beautiful, Victorian-era house that I called home while in London. I was homesick for that lifestyle – for the experiences I had and the people I shared them with.

By far the hardest part of coming home was the combined sense of loneliness and boredom I felt. In London, my life was a constant adventure. I lived in a room with five other girls who all became my closest friends. I got into a routine: Go to class. Go somewhere new for lunch. Go to a museum. Go to dinner with the group. Go to a pub or a play or a concert. Travel somewhere incredible over the weekend. Do things you've never done before and may never have the chance to do again. Come back, repeat. In London, there is always something going on and it's often just a couple tube stops away. I was prepared to spend every cent of the hard-earned money I saved up the previous summer on travel, and I felt the pressure of a time crunch to get it all done, so I was always busy.

When I first got back to the states, I tried to maintain that busyness. I went to three grocery stores the day after I got back. I saw family I hadn't seen in months. I went on hikes. I helped coach my little cousin's volleyball team. But soon, the excitement of my return began to fade. People no longer asked me about my time abroad, and I got tired of answering the same questions over and over when they did.My life started to seem so dull compared to when I was in Europe. I was back to spending hours watching Netflix just to pass the time. It's a lot harder to keep up that adventurous lifestyle when you need to be making money instead of spending it. And even if you do have the money it's hard to plan things when your friends are no longer an arm's reach away and on the same schedule as you. I grew and learned so much during those eight months. I felt cultured, independent, confident, and I had opinions with experiences to back them up. I felt like I could do anything, like I could conquer the world. Being back at home, living with my parents, searching for (and struggling to find) a job, lazing around the house all day, sleeping in until noon. It felt like I was backsliding into a former version of myself, a lesser, incomplete prototype.

But the more I interact with the world around me, the more I realize that's not true. I am a changed person –the way I think, the way I act. I might not be hopping on a plane every other weekend and challenging myself in a foreign country anymore but what I learned from those experiences will never leave me. The effects of my time abroad will stay with me for the rest of my life. I have a new hunger for more. Going home was bittersweet, but I see now that it was not an ending to a brief and wonderful period in my life, but a springboard to propel me towards more exploration and growth, more adventures, more incredible experiences.

I've had a taste of the life I want to live, and now I can set about obtaining it.

Happy Backpackers

The trip to Budapest was amazing! I did not know what to expect from Budapest because my roommate just told me to go with her so I was up for anything, but it ended up being one of my favorite trips so far of my study abroad experience. The hostel we stayed at gave us an excellent taste of the Budapest night life while Bogi took us to places that I definitely would not have been able to get to on my own or had known about if not for her WSA tour. It was a great weekend and I highly recommend it.

Mary Reagan, Saint Louis University

~ St. Louis University, Madrid, Spring 2015
Spots are limited!
We keep our groups small, so save your spot now! Check out our Tripadvisor, App Store & Facebook travel love below.
Multi-City Adventures:
Stay up to date with upcoming tours, deals and discounts through our Facebook page!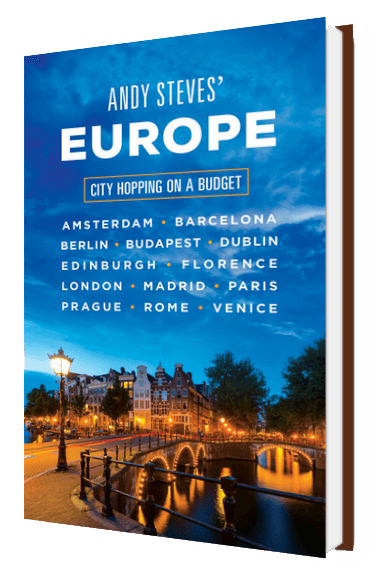 Pick a city and go! All new budget guidebook from Andy Steves, Founder and Chief Backpacker of WSA.