FAQ
WSA's Frequently Asked Questions
Here are some of the most frequent questions people have about our tours and trips.
Contact us here if you have any questions that aren't answered.
Q: Why are the tour prices higher in the summer?
A: During the summer months hostels charge more per night, becuase of that we raised our prices to match what they are charging.
Q: What hostel are we staying at and how do I get there?
A: We stay in great hostels from Dublin to Prague, and Rome to London. About 1 week ahead of your tour start date, we'll send you all the prep info you need to know including weather, directions to the hostel, hostel name and itinerary info.
Q: For all of the tourist attractions and activities listed, do we pay fees for them? In other words, does the 200euro trip fee cover all of these events? Or do we pay for each separately as we go? What exactly does the 200euro fee cover?
A: Nope, if we list the sightseeing activities to be included, they're included! For example our Amsterdam trip includes your entry to the Anne Frank House, Van Gogh Museum, diamond cutting, and evening canal cruise and more!
Q: Where and when do we meet with the group on Thursdays to begin the trip?
A: On Thursday night you will arrange for your transportation to take you straight to the hostel. The group will arrive at various times and the group will begin the tour Friday morning at the hostel. Thursday night is a great time to get a little solo exploring in with you and your friends and meet others in the group.
Q: How much do flights typically run?
A: Flights completely vary based on the weekend you're booking for. It's something you'll just have to keep an eye on, but take a peek at our site here for tips on how to get the best deals.
Q: Which hostels will we be staying at? What are they like? How many people per room? From the info on the Amsterdam page, one extra night is 30euros, so each night is 30euros. Is this correct? Is that included in the price?
A: You'll be staying at one of the city's top rated hostels, where the rooms are very nice! The hostel accommodations for two nights are included in the price. Nightly prices for the rooms, like flights, vary depending on the weekend, but we have set the extra night at 30EUR.
Q: The cost of the hostel we stayed at is X online, so does that mean that's what you pay to them?
A: The prices you see on the hostel's website are usually their promo rates that may apply to a single night of your stay. Just because you see a rate doesn't mean that's what we are being charged, nor does it necessarily apply to the dates at hand. Availability, capacity, weekend and season all play into the current rates which are usually different from the rates posted online or on a sign at the door.
Q: Am I guaranteed to stay in the same hostel room with my friends?
A: We do our best to get friends together, but room assignment is something that individual hostels coordinate on their own systems. So, while we try to put friends together in the same room, it's never something we can guarantee.
Q: So, if my hostel costs X, and my sighseeing costs Y why is the price of WSA packages more than the sum of those?
A: It takes quite a bit of work to put every single WSA package together. From researching and designing the itinerary to hiring and paying for our excellent local guides, website hosting, marketing and advertising materials, staff payroll, liability insurance and numerous other general business expenses. As a tour operator, our margins go towards paying for operational expenses like these.
Q: Why is the price of a WSA package 200 euro and it doesn't include all my food, city tax and anything else that I have to pay for out of pocket after puchasing the package?
A: We've found the price point of 200 euro to work best with students' budget. It allows us to build in a number of fun activities, hire excellent guides, and provide you the best introductory tour to some of our favorite cities in Europe. We've optimized all our activities that we cover to ensure we're maximizing each and every dollar spent. We've done our best to help minimize other optional expenses, but our desire is to make each WSA package fit for as many people, budgets and priorities as possible.
Q: Is local transportation included in the cost or is it separate? Do students all buy a Eurorail card?
A: All local transportation is included when you are with the group! There will be some times when you'll have a few hours to explore on your own before meeting up with the group again so if you hop on the public transportation during that time you'll have to cover it, but all of the group transportation within Amsterdam is included. All students do not buy the Eurail pass, it's really up to you, but that's something we also have some info on here.
Q: Are meals included in the 200 Euro price or do we pay for all of them separately?
A: The food and drinks are not included, but we have a great list of delicious, budget friendly suggestions and our local guide will be able to point you in the right direction! Simply put, some are included, some are not.
Q: How can I access the Cinque Terre fact sheet like the Amsterdam one? When I click on the "Details" pdf on the Cinque Terre page, it just brings me to a general WSA fact sheet.
A: The Cinque Terre tour right now is only offered as one of our unguided Detours (whereas the Amsterdam trips can be booked as our guided tours or a WSA Detour). This means you would not have a tour guide, it would likely just be you and whatever friends you travel with. This is great if you're an independent traveler! We would arrange for your accommodations and provide you with a suggested itinerary to follow to make the most of your time - this would include tons of dining and activity suggestions!
Q: I couldn't find a flight that would get me in to the hostel before 10am on Friday morning but your website says the tour departs at 10am. Will this be a problem?
A: No worries! We know many of the budget flights get you in at awkward hours. Get in when you can, and our excellent hostel staff will help you get caught up with the tour in a jiffy! We do recommend trying to find a flight that gets in on Thursday night though, just to make the most of your weekend and avoid any issues that could delay your arrival to the tour on Friday!
Q: Is all local transportation included?
A: All local transportation is included when you are with the group. There will be a few hours here and there when you will be given time to explore the city a bit on your own. During this time you will need to cover any transportation you decide to take, whether it's a cab, metro, bus, etc.
Q: Who will actually be leading my tour?
A: We pride ourselves on our passionate, knowledgable and professional local guides. Our destinations have their guide's profile posted on the sidebar. You can read up on them in more depth on our WSA Team Page. Our guides are the public face of WSA. For this reason, our CEO & President, Andy Steves, has handpicked our staff on the ground to ensure incredible experiences in any destination on any weekend.
Q: When should I book my flight out for Sunday because I don't want to miss any group activities?
A: Because we know many of the cheapest flights out are first thing on Sunday morning, we make sure to pack all our "meat" of the tour into Friday afternoon and all day Saturday. Go for whatever flight is cheapest, keeping in mind that many budget airline airports are FAR out from the city center and require extra time and money to get to. But not to worry as you will not be missing any crucial components to the tour.
Q: I forgot to click the 'Thursday night stay box'. Can I just show up at the hostel and crash in a bed unannounced?
A: No! We love to provide great service, but if you show up without booking the night and letting us know, our hands our tied. The hostels we work with release the extra beds to the public who then pay for those beds and fill them. Please let us know ahead of time as we need to expect the correct number of tour members for Thursday. If you show up unannounced, and displace a tour member who has paid for their bed on Thursday, you will be responsible for both the cost of your bed, and theirs. So, please just let us know you're coming! It's much easier that way.
Q: Can I add the Thursday night stay after I book my WSA trip?
A: No guarantees, but yes! Just shoot us an email saying what tour your on (destination and weekend), and we'd be happy to add it for you if there is availability. Sometimes, there is no availability on the Thursday night so we'll recommend a couple other hostels to check out that we also like.
Q: I didn't see an option to add the Thursday night stay in the booking. Can I still book it?
A: If you didn't see the option, we've probably removed it as all our beds for Thursday night stays have been taken. Nonetheless, shoot us an email, and we'll see if we can help you out. In the least, we'll recommend a few other hostels that we know and trust.
Q: When can I expect to get the all the prep info for the tour like directions to the hostel, itinerary outline, what to bring etc.?
A: We know your inboxes fill up so we don't like to send out prep emails too soon. You can expect an email on the Sunday before the tour starts at the latest. There is nothing you need to do besides show up at the hostel, so no worries, and enjoy the ride!
Q: I already have my accommodations, can I select 'a la carte' from the tour?
A: Our focus is on providing excellent service to our tour members, so we don't offer 'a la carte' tours. Our trips are designed to ensure that our sightseeing is efficient and allows customers to truly experience a city to the fullest, so we can't have coming and going throughout the weekend. Our guides are on call throughout the tour to make sure that everyone is having a good time, so everyone staying at the same place is a key part of our service!
Q: Do you have to be from the US studying abroad?
A: No, in fact the more international students, the better. It's a rich experience to visit another city in another culture, but to do so in a group of mixed backgrounds is even better. We encourage backpackers too! The weekends are the best time to visit the biggest cities across Europe, and our service helps backpackers make the most of their time over the weekend while also giving a welcome break from the logistics of planning your trip.
Q: Do you have a Facebook page?
A: Yes, check it out here. If you've booked a tour with us, get to know your fellow members here by joining an event and posting on our wall. Also check us out on Trip Advisor and leave us review!
Q: Are there age restrictions?
A: You just have to be over 18. We welcome non-students, but these tours are marketed directly to the American student studying abroad in Europe. Whoever wants to tag along is more than welcome!
Q: How active are WSA tours?
A: Our tours are VERY active. Before booking, please ask yourself if you can walk up to three miles at a time, ride a bike for two hours and carry your own bags regardless of how much sleep you got the night before. Seeing any city in Europe in just one weekend is ambitious, and our tour itineraries reflect this. We run all over the place, so you gotta keep up! You're responsible for your own health and actions throughout the entirety of the tour. Please see our Terms & Conditions for all the details and information you need to know.
Q: Can I arrive earlier or stay longer in the hostel?
A: Definitely. We offer an additional Thursday night stay for a charge (25-30 Euros). Also, we'll pass along the contact information for the hostel if you wish to come earlier than Thursday or extend your stay. As you email the hostel, be sure to reference that you're with the WSA tour. That way you may not even have to switch rooms!
Q: Do your tours include travel insurance?
A: No, they don't. We strongly recommend acquiring travel insurance for yourself and particular situation. We recommend this as we can't offer refunds for missed flights, sickness, changed exam dates, visiting parents or anything else.
Q: Studying abroad is really my first lesson in budgeting, and I've spent all my money. Can I cancel my trip and get a refund?
A: We'd love to help you on this--we really would--but we can't offer cancellations for any of our trips for any reason. We're happy to transfer a trip (please see conditions), but because we're responsible to many students, and have already paid for your hostel, restaurants and museums, we can't offer cancellations and refunds.
Q: It's Saturday, and I know the tour I signed up for started yesterday, but I got sick. Can I get a refund?
A: As with any other product or service (flights, concerts, etc), if you don't show up, you cannot receive a refund. Similarily, for our trips, if you request a cancellation and refund after the service has started, we can't give you a refund. If you get sick and miss a trip, please note that this is a travel insurance issue, and we are a tour provider, not insurance company.
Q: Can I transfer my booking?
A: Yes, we're happy to transfer your booking to any other tour of equal or lesser value free of charge once. We can make transfers up to 25 days inclusive before the tour starts. After the first transfer, we charge 20eur per transfer per person. Please read our full Terms & Conditions for more details and information.
Less Frequently Asked Questions
Q: I think I have bug bites. How do I know if I got them from your hostel and your weekend?
A: Bug bites are a pain, we understand that! At WSA, there have been 3 times where students have had bug bites after a tour. In each of the three incidents, students sincerely believed they had bed bug bites. But they turned out to be 1. An allergic reaction to laundry detergent, 2. Sand mites picked up from the beach in Barcelona, and 3. A skin mite called scabies. None turned out to be bed bugs even though that was students' first reaction. We haven't had a single incident of bed bugs in any of our hostels we stay at. Bed bugs shut an entire hostel down, they have to fumigate and it's a very serious issue.
Q: I have an issue I'd like to raise with WSA to get it resolved. When should I raise it?
A: If you have any questions, concerns, issues, frustrations or are otherwise dissatisfied with your WSA experience, please raise it with our local guide on the ground in your city. There is very little we can do after the tour is over to appropriately address and resolve the issue. If you email us after the fact, we appreciate you taking the time to alert us to the issue, but there is muych less we can proactively do in order to resolve the situation whatever it may be.
Q: What is a tourist city tax and will I have to pay it?
A: Certain cities in Europe have turned to the tourists to help finance large public work projects like adding new metros and tram lines in a city, or to fund a lagoon levy. In our hostels, you may be asked to pay a city tax ranging between 3 and 4 euros a night per person upon check in. These cities are primarily located in Italy: Florence, Rome and Venice.
Happy Backpackers

Great mix between learning and leisure. Our tour guide, Lauren, was extremely knowledgable and also very well connected. The weekend was a blast!

Dan McGlinn, University of Notre Dame

~ Notre Dame Global Gateway, Rome, Summer Break 2016
Spots are limited!
We keep our groups small, so save your spot now! Check out our Tripadvisor, App Store & Facebook travel love below.
Multi-City Adventures:
Stay up to date with upcoming tours, deals and discounts through our Facebook page!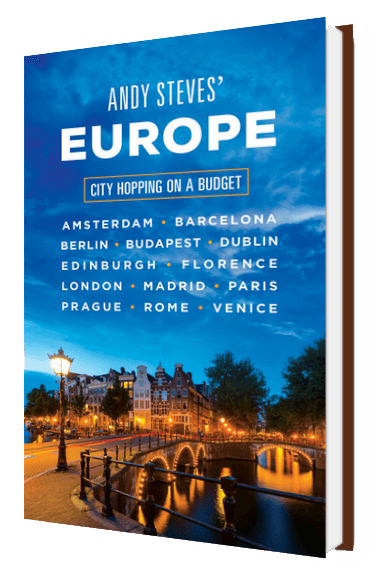 Pick a city and go! All new budget guidebook from Andy Steves, Founder and Chief Backpacker of WSA.